Hello dear stock friends! With today's blog post, there are in retrospect the stock purchases in December 2021 and thus also the annual financial statements. Probably the majority of them are underwater at the time of publication, but the investment horizon is of course intended for the long term. Have fun reading!
---
Stock purchases December 2021
In December, I was again much more active and bought shares worth about 23.068 EUR into the portfolio. However, there were also sales and with the blog post about the option trades in December also two planned sells.
---
Re-Buys
Cardinal Health
Zum Start in den Dezember hatte ich weitere 50 Aktien von Cardinal Health (CAH) zu 47,80 USD je Aktie ins Degiro* Depot gekauft. Genauso viele Aktien hatte ich bereits. Inkl. Ordergebühren hat mich der Nachkauf ~2.390 USD bzw. ~2.124 EUR gekostet.
To start December, I had bought another 50 shares of Cardinal Health (CAH) at $47.80 per share into the Degiro* account. I already had the same number of shares. Including order fees, the additional purchase cost me ~2.390 USD or ~2.124 EUR.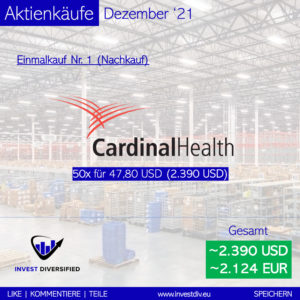 I don't think much needs to be said about CAH. One of the largest pharmaceutical companies in the USA, the dividend has been increased every year since 1984!!! (regardless of recession, inflation, etc.). I see one of the biggest risks, the 'opioid settlements', already priced in. Based on my purchase price (which I was able to lower a bit), the dividend is about 4,1%!
---
Ares Capital
In the case of ARCC, it was a psychologically very important post-buy. Psychological? Is he completely crazy now? Maybe! Like many others, I unfortunately here and there under the anchor effect and make the decision to buy something unnecessarily difficult. I bought Ares Capital in April '20 in a small position at 11,69 USD per share. The price has almost doubled since then (and dividends on top) and I have shied away from re-buying.
So the monkey mind just got tricked and blindsided when I bought another 156 shares from Ares Capital (ARCC) at $20,67 per share into the Captrader portfolio. That's a total of ~3.227 USD or ~2.857 EUR including order fees.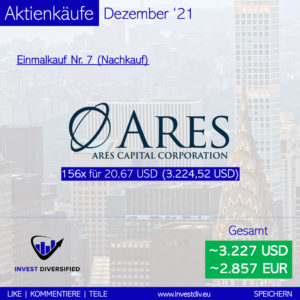 Briefly on Ares Capital: this is a Business Development Company (BDC) and these are intended to provide SMEs with access to capital, among other things. ARCC is the largest BDC in terms of net assets, with a market capitalization of about 9,5 billion USD. There are currently over 370 companies in the >17 billion USD investment portfolio. I already had 44 stocks in the portfolio.
With BDCs, the price/NAV ratio is interesting. Here you can see if you can buy the BDC at a discount or if you have to add premium. A favorite of many is e.g. Main Street Capital, which is at the top with an almost monstrous premium of 1,82x. ARCC also has a premium, but it's only 1,11x. I can live with that.
Of course, the cash flow will be increased by the additional purchase and I can look forward to 8,8% dividends (based on the purchase price) per year.
---
Unilever
In mid-December, I bought 44 shares at 46,77 EUR per share of Unilever PLC into my Degiro* account. Including order fees, the additional purchase cost me ~1.875 EUR.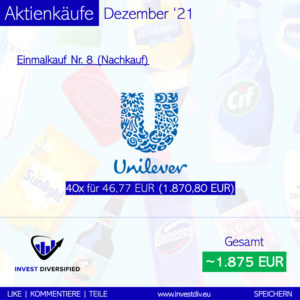 Previously I had already 42,85 shares (incl. fractional shares) of Unilever in the portfolio, now almost twice as many. As of December, the position is ~3.854 EUR large. The reason for the additional purchase was the price decline since July coupled with the desire to further strengthen the portfolio on the defensive side.
---
Exxon Mobil
Another additional purchase with 65 shares of Exxon Mobil was bought into the Captrader portfolio at the end of December. Including order fees, the additional purchase cost me ~3.964 USD or ~3.495 EUR.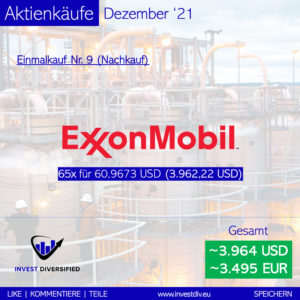 XOM will be my carbon capture play. My purchase price is at 56 USD, so YoC is 6.3%.
---
VICI Properties
I also added to the real estate portfolio. Another 100 shares of VICI Properties were bought in the Captrader portfolio. Including order fees, the additional purchase cost me ~2.844 USD or ~2.508 EUR.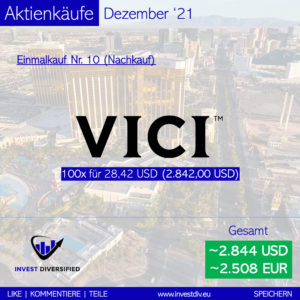 I was able to lower the purchase price to 30,02 USD, which results in a YoC of 4.8%.
---
AT&T
There were also 100 more shares in AT&T. Now there are 300 in the Captrader portfolio. Including order fees, the additional purchase cost me ~2.475 USD or ~2.182 EUR.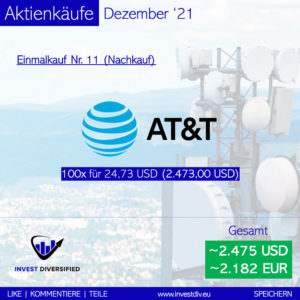 I could have had the certainly cheaper, but makes the buck now also not fat. The purchase price is at 26,84 USD, the dividend yield at 7,7%.
---
Orion Office REIT
Due to the merger of Realty Income and VEREIT and the subsequent spin-off of Office Immobilien, I received a total of 11 shares of Orion Office REIT. And from this I had bought 90 more shares into the Captrader portfolio. Including order fees, the additional purchase cost me ~1.684 USD or ~1.489 EUR.

The REIT owns a total of 92 suburban office properties, 94,4% of which are leased. The share of investment grade tenants is above average. To date, Orion Office is the only REIT focused 100% on the net lease office sector. It is a small cap, but managed by a board with 25 years of experience. Little is known yet about the dividend. However, statements from the CEO take a payout ratio of 50-60%, which in turn would mean a potential dividend yield of 7-8%. I'm curious!
---
First-time purchases
Mo-BRUK
Last but not least, I bought a small cap in Poland. Mo-BRUK is a company that, among other things, deals with the disposal of highly toxic industrial waste. The dividend yield is 5,2%. This is paid out annually.
---
Coinbase, Celsius, Upstart & Sea Ltd.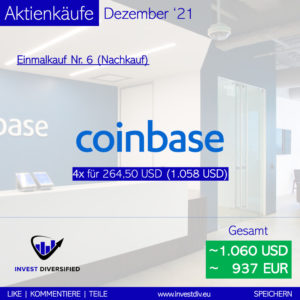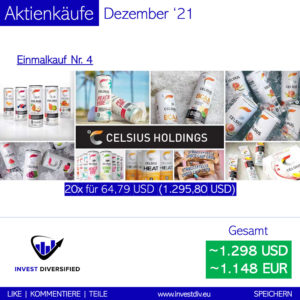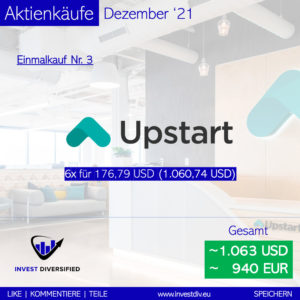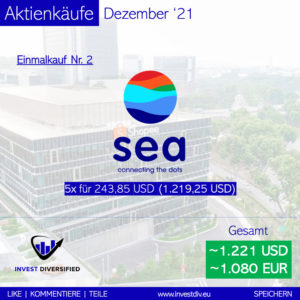 Since I still had some room in the venture area of my portfolio, I also opened some positions there, which are now all significantly underwater. But that's how it is sometimes. Therefore, this area is weighted with a maximum of 10%!
The first thing I did was to buy in Coinbase. Here I already had a mini position of one whole share. Now there are five!
The fitness drink company Celsius also gave in December neatly and fell price-wise by about 40% (meanwhile even significantly more). I already have a similar company in my portfolio with Monster Beverage.
Upstart (UPST) was the next company that entered the portfolio with 6 shares. As you know, I like credits, so UPST fits wonderfully into my portfolio. The share price also fell in the last 6 months, namely 56% (as of December)!
Sea Limited (SEA) also had to 'bite the dust'. The company itself is quite interesting. From the ATH at almost 367 USD, it went over 30% south (also here as of December). Therefore, I have opened a small position.
---
Teamviewer
Last but not least, I entered into a trade with Teamviewer in December, which (so much in advance) has already ended with a profit.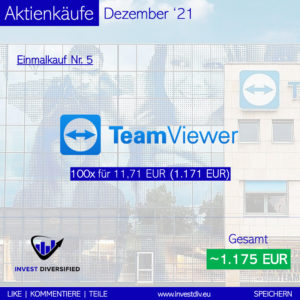 ---
My broker(s)
I have several brokers for my stocks, but the majority are German ones, so European readers of my blog cannot register there. As you may know I'm very transparent about the income I receive if you use one of my * affiliate or referral links. Most of the time there is a bonus for you, but never ever costs!
Degiro is my second largest broker. A while ago they did a fusion with the German broker flatex, and it's now the biggest broker in Europe. You can trade already from 0,50€ directly on the NYSE or other US stock exchanges. Also, I trade European options there.
If you use my link* and register an account on Degiro you get a refund of 20€ transaction credit. You only need to spend 20€ transaction credit within 3 months. If you do so, and only then, I have also the possibility to get a refund.

I've been with the German broker Trade Republic for a year now and they expand to Italy in the Netherlands! My savings plans for individual shares and ETFs have been running there for a short time. Free of charge! Otherwise, the trade is also quite cheap with 1 € fee for buying or selling securities.
If you use my Trade Republic link* I receive up to 45€.
---
About new projects on Twitter, Instagram and Facebook
On my own behalf, I would like to mention that I also present new projects on Twitter (kaph1016) and Instagram (investdiversified) in which I invest myself. Also, on Facebook I have a page. There are also a few insights into how I invest in other areas. So just follow me :).
*Some links in my posts are affiliate or referral links. That means I get a little bonus. For each of those who use these links, however, there are no costs or other disadvantages. On the contrary, there is usually a start bonus or cashback. So if you use these links, you support my blog and for that I say thank you in advance!