Hello again! In today's blog post, 'My History with Debitum Network', I'll share my past experiences with the platform and discuss why I withdrew my investments. But that's not the end of the story! Stay tuned as I reveal my plans to reinvest and explore the exciting changes happening at Debitum Network. Let's dive in!
---
---
Debitum Network – A Recap
In January 2020, I began my investment journey with Debitum Network, a P2P lending platform exclusively focused on business loans. The main reason behind my decision to invest was to diversify my investment portfolio, and Debitum Network provided an opportunity to specifically target the business lending sector.
Before delving deeper into my experiences with Debitum Network, let's start with a brief overview of the platform's key information. Founded in 2018 and headquartered in Riga, Latvia, under the name "SIA DN Operator," Debitum Network is (meanwhile) regulated by the Latvian Financial and Capital Market Commission (FCMC). With over 9.000 registered users as of October 2022, the platform boasts an audited business report for 2021, instilling confidence in its operations.
One notable aspect of Debitum Network is its focus on business loans, offering investors the opportunity to participate exclusively in this sector. This dedication to business lending aligns with my investment goals and provides a targeted approach to diversify my portfolio.
Debitum Network also implements an asset-backed securities (ABS) structure, which involves bundling individual loans into a loan pool. This ABS structure automatically distributes the risk of individual loans and is separate from the lender through Special Purpose Vehicles (SPVs). This structure was a crucial requirement for Debitum Network to obtain a license from the Latvian Financial and Capital Market Commission (FCMC), the same regulatory body overseeing all banks in Latvia.
The ABS structure on Debitum Network offers investors the opportunity to invest in loan pools with a minimum investment of (again) 10 EUR. This approach provides an additional layer of risk mitigation and strengthens the overall investment proposition on the platform.
---
A Shift in Focus and its Impact
In August 2020, Debitum Network made a significant announcement that triggered a wave of discontent among investors, including myself. The platform unveiled its decision to prioritize financially strong investors, gradually shifting its focus towards institutional investors. While it's understandable for platforms to evolve and adapt, the manner in which this change was communicated left much to be desired, especially for those of us who had invested less than the new minimum threshold.
The first noticeable impact of this shift was the drastic increase in the minimum investment amount, soaring from a modest 10 EUR to a substantial 50 EUR. Additionally, a total investment of at least 500 EUR was required, effectively excluding many investors who had previously enjoyed the accessibility of lower investment thresholds. On the surface, the rationale behind these changes appeared fair, as the platform sought to attract larger investors and institutional entities. However, it was the manner in which these alterations were enforced that left a bitter taste in the mouths of investors like myself.
A deadline was set, accompanied by several reminders urging investors to increase their investment to meet the new requirements. This coercive approach felt as though investors were being forced into a corner, pressured to conform to the platform's new vision. As a result, I couldn't help but view this strategy as a disgrace, as it disregarded the needs and investments of those who had contributed less than the prescribed minimum.
The impact of these changes rippled through my investment strategy. In order to maintain proper diversification and prevent an overwhelming concentration of funds, my goal on platforms has always been to distribute investments across a broad range of loans or projects. In this case, reaching 100 loans or projects, with each loan valued at 50 EUR, would have totaled 5.000 EUR. However, the new investment requirements would have thrown this diversification strategy into disarray. Consequently, I made the decision to halt the auto-invest and withdraw all repayments.
It took a while to withdraw everything, but by the start of October '21 I finished my investment. Despite my criticism the results were quite ok with an IRR a of 8,68% p.a.

---
A Journey of Change and Resilience
Since then the platform has experienced a transformative journey, marked by significant changes and a steadfast determination to overcome challenges. This chapter explores three key elements that have shaped this journey: the change in CEO, the impact of the Ukraine/Russia war on the loan portfolio, and the attainment of a license.
Change of CEO
Henrijs Jansons took over as the CEO of Debitum Network in January 2022, succeeding Sergei Demchuk, who transitioned to a role on the Supervisory Board. With extensive experience in the FinTech, Finance, and IT sectors, Henrijs brought a wealth of expertise in product development and financial systems. His appointment signified a fresh perspective and a commitment to driving the platform's growth and development.
Ukraine/Russia War and effects on the Loan Portfolio
In response to the escalation of the Ukraine/Russia conflict, Debitum Network took proactive measures to minimize risk exposure. Investments in assets related to Ukraine were temporarily suspended, and no new assets from Ukraine or Russia were added. While one Loan Originator, "Chain Finance," had exposure to loans issued in Ukraine, the company remained operational and had plans for business continuity in the present conditions of war and after the war. Debitum Network closely monitored the situation, providing updates on the borrowers, asset location, and the condition of the collateral (cars) used to secure the loans.
CEO comments the current situation as follows:
Our Ukrainian loan originator has showed professionalism and good results in managing existing portfolio in such a difficult times. Nevertheless, due to the war situation in the country, physical destruction of assets and a significant depreciation of currency have occurred. Also, martial law prohibits the Ukrainian borrower to repay investors the funding that has already been recovered. Therefore since the beginning of the war, we have been looking for ways to solve the issue of funds invested in Ukraine. Although our platform primarily serves as a mean for companies to connect with investors (and vice versa), Debitum takes direct responsibility for the safety of the platform's investors' funds. We want to directly control, influence the situation and protect our investors. Unfortunately today I can't reveal the details about the issue but I believe in very close future we will come to our investors with interesting solution about war affected assets.
License
In September 2021, Debitum Network achieved a significant milestone by obtaining an investment brokerage license from the Latvian Financial and Capital Market Commission (FCMC). This regulatory approval established the platform as a regulated and transparent investment platform in Latvia and Europe. The license paved the way for the introduction of Asset-Backed Securities (ABS), offering investors a diversified investment option backed by a pool of loans. The transition period allowed for a gradual shift to the ABS model, providing increased investor protection and aligning with regulatory standards.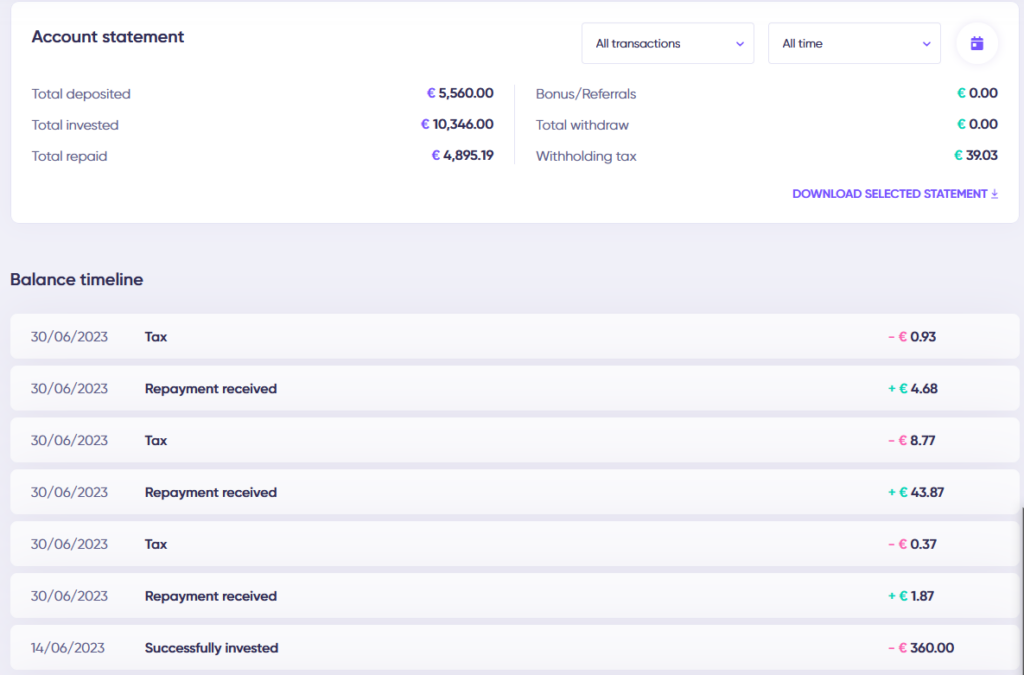 These milestones of change and resilience have shaped the path of Debitum Network, demonstrating its ability to adapt and overcome challenges. With a new CEO at the helm, measures in place to navigate the impact of the Ukraine/Russia war, and the attainment of a license, Debitum Network remains committed to providing a secure and reliable investment environment.
---
More changes incoming
Exciting times lie ahead for Debitum Network as the platform prepares to welcome new owners. More information about this matter we can expect from Debitum somewhen this Summer. These developments are set to bring about positive transformations, enhancing the overall user experience and reinforcing the platform's position as a leading P2P platform to invest in business loans.
The introduction of new ownership will pave the way for essential enhancements and the implementation of necessary features. Among these anticipated additions is the long-awaited introduction of a secondary market, allowing investors to trade their loan investments. This new feature will empower users with greater flexibility and liquidity, enabling them to optimize their investment strategies.
By embracing these positive changes and listening to user feedback, Debitum Network is committed to continually improving its services and delivering an even more robust and comprehensive investment platform. By the way, there was also an update of the investor dashboard in June!
And there is another change already live since beginning of July. Debitum Network got rid of one of my pain points, namely the minimal investment of 50 EUR. Now it's back to 10 EUR!
---
Sandbox Funding!
The other aspect of platform development could be highlighted by offering new and wider investment opportunities to investors. Debitum has shared plans to introduce 2-3 new investment projects in the upcoming 3-4 months. The first out of those, namely Sandbox Funding, is available on the platform.
In the area of lending, Debitum Network has taken important steps to ensure a smooth and regulated process. To address the challenges faced by smaller loan originators (LOs) in implementing the necessary regulatory processes, Debitum has established a separate loan originator called "Sandbox Funding". This is because it takes quite a long time due to regulation and also involves some costs to get ABS onto a platform like Debitum Network. Sandbox Fund was implemented for this purpose as a kind of shortcut and opens up to offer appropriate financing in a less bureaucratic way with lower costs. By the way, 'shortcut' doesn't mean that the partners (borrowers) assessment and onboarding process be less thorough and scrupulous. Debitum although operates in the P2P industry for 5 years and has kept 0% default record. They're planning to keep it on this level.
Already now the first investment program (ABS) from Latvia (loans to energy sector companies) are on the platform with 12% p.a., which is much more than usual. Of course, higher interest rates makes the platform even more interesting.
Debitum revealed that next investment projects will also be related to sustainable industries, such as forestry and eco-house building!
---
Summary
A lot of changes over the last years, but good ones in my opinion. I was an active investor in the past at Debitum Network and now I'm planning to invest again. The platform provides in my opinion compelling reasons to reinvest and continue my investment journey:
Targeted Focus: Debitum Network exclusively focuses on business loans, allowing for portfolio diversification within this sector.
Asset-Backed Securities: The platform implemented an ABS structure that bundles loans into pools, reducing risk and providing additional investor protection.
Transformative Journey: Debitum Network has undergone significant changes, including a new CEO and measures to navigate challenges like the Ukraine/Russia war.
Regulatory Approval: The platform obtained an investment brokerage license, ensuring transparency and aligning with regulatory standards.
Exciting Enhancements: New ownership will bring positive transformations, including the introduction of a secondary market, new investment projects and reduced minimum investment

Impressive track record: 0% default rate in 5 years while financed 70+ million EUR.

Interest rates: Increasing interest rates in 2023 >10% p.a., latest projects are 11% and 12%.p.a.
Overall, Debitum Network offers an opportunity to diversify investments, mitigate risk, and benefit from ongoing improvements in a secure and regulated investment environment.
---
Bonus
If you want to invest on Debitum Network*, there is an exclusive offer for you. If you register with my link* you get 1% bonus if you invest from 10 EUR in ABS (non Sandbox Funding) with at least 90 days term. If you invest in Sandbox Funding you get 2% cashback! I receive one-time 10 EUR and 2% cashback for 90 days on the investment.
---
Social Media
On my own behalf, I would like to mention that I also present new projects on Twitter (kaph1016) and Instagram (investdiversified) in which I invest myself. Also, on Facebook I have a page. There are also a few insights into how I invest in other areas. So just follow me :). *Some links in my posts are affiliate or referral links. That means I get a little bonus. For each of those who use these links, however, there are no costs or other disadvantages. On the contrary, there is usually a start bonus or cashback. So if you use these links, you support my blog and for that I say thank you in advance!