Hi there! Today there is a blog post with two parts. The first is a review of the Estonian real estate platform ReInvest24, part two another interview. This time with ReInvest24′ new marketing manager Viktorija Bondarjonoka. And yes the secondary market will be a topic :).
Almost one and a half year ago I stumbled over a fresh platform in the P2P industry. Back then my portfolio was only a third of today's size and Mintos my biggest platform. And I was even more curious to add and test new platforms. The idea was to invest in real estates as well which should bring stable cash flow, so I registered at ReInvest24.
---
'Due Diligence'
For the sake of completeness I want to share here some information about ReInvest24. They were founded in 2017 and started the platform already in 2018. As it's an Estonian company, registered in Tallinn, you can find a lot of information on teatmik.ee.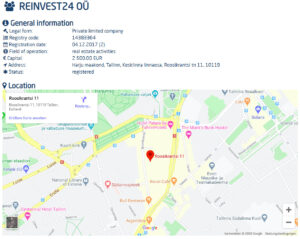 ---
Platform (Review)
Registration
Nothing really interesting you find if you register on the platform. You just have to enter the relevant data. Sooner or later there has to be a real identification process I think.
Properties
First I want to speak a bit about track record as it is an important point for investors to put money on a platform. Yes I consider ReInvest24 still as a young platform but for the young age they have at the moment already 10!! completed projects. And that's what investors like most, completed project without problems or long delays.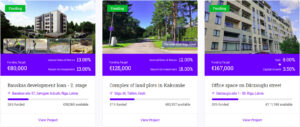 Regarding the properties there is an overview page with the most relevant information. Clicking on a project you get detailed information about:
the object itself
the investment case
the financials
and the 'technical overview' where all the relevant documents can be downloaded
Statistics
If you want to see the full numbers there is the Transactions section, where every interest payment (called 'dividend'), capital gain dividend and investment is listed.
If you want a full overview, for example for your tax statement, then you find all the information in the Income report.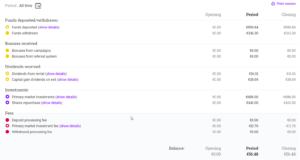 What's good or changed?
One thing I missed in the past was a faster deal flow. ReInvest24 changed that in the last months by offering not only rental projects but also development loans. First I thought now the platform lost their unique selling point but I understood that it's a necessary step into the right direction. Adding this kind of loans also entailed diversification as new countries are available (Latvia and Moldova).
What's (still) missing?
Yeah, here I have to mention the secondary market for the second time. In my opinion it's absolutely necessary for a real estate platform to offer a secondary market. But it will come and I will have the chance to test it! 🙂
My portfolio and performance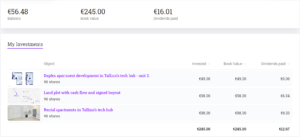 Here is an overview over my current portfolio on ReInvest24. I withdrew a lot in the last time, but still invest in nearly every new project of the platform but for now over another marketplace. Today the IRR is 12,81%!
---
Interview
Hi, Viktorija thank you for answering my questions. I hope you are fine? How's the situation in Latvia?
Hi Philipp, Thank You for inviting me. Despite all the instabilities in terms of global scale, I'm truly great and looking forward to everything that life is planning to bring me this year. In terms of the recent health crisis, as of today, Latvia is considered to be one of the least affected countries. So the situation is kind of stable. Also, that's an advantage of living in such a small and green country.
First, maybe some of my readers don't know you. Please tell me something about yourself?
Sure, so my name is Victoria and I'm the Head of Marketing at Reinvest24 – real estate crowdfunding platform. Many of Your readers may know me already, as I'm in this industry already for 2.5 years, started as an Affiliate Manager at Grupeer, then recently was a part of BOLDYIELD team, which unfortunately paused its operations early this year. And now I have joined Reinvest24 to help them achieve new heights in terms of platform development.

Before my Fintech chapter began, I also worked in the bank assisting large corporate clients. And in the free time I'm sewing haute couture dresses as my heart truly belongs to fashion. If I could I would wrap all the globe in lace. So, in short, I would say that I'm an artistic soul in the world of FinTech.
I have to mention the elephant in the room. What did you think as you heard about the scammy business of Grupeer?
It was extremely sad to see how once-great company is being destroyed from the inside. When I came to Grupeer, I was one of the first employees and in terms of marketing, my colleagues and I were the ones who did everything from scratch and built such a strong brand, which was loved by many, until recently. I will always say that Grupeer's success story was its employees. At least the majority of those with whom I worked, as I left a year ago and since then the company changed a lot. Back then Grupeer was a great employer to work for but this Grupeer… this Grupeer is something that I'm not familiar with anymore. Also, it surprises me that some managers have simply removed "worked at Grupeer" experience on Linkedin. Let's hope the case will be resolved without major losses for investors.
Some might know you from Boldyield, which unfortunately paused the business. Was it just bad timing for the platform? And do you know if the platform starts over?
Yes, I would say that bad timing was one of the main reasons. The management of BOLDYIELD was professionals with a big letter. Many solutions were evaluated before choosing this one. And believe me, this was the hardest as we still believe in this platform.

In regard to the team, we continue to keep in touch with each other and I can confirm that until the crowdfunding regulation comes into force, BOLDYIELD is not going to reactivate its operations. Additionally, I want to say that such positive feedback and truly the greatest support we received from our investors is something that each platform can only dream about after only 3 months of operations. So I believe additional words are not needed – I prefer when actions speak louder than beautiful words. Even though I'm a marketer.
Coming to ReInvest24. Why this company?
I will be honest, I received many offers from already established market participants but I chose Reinvest24 instead as they have a solid foundation that needs to grow and their business model is unique and sustainable. And the industry badly needs such trusted platforms. Besides, they have all the potential to become a great market player and I will be happy to help them improve what should be improved in order to achieve that. For me, it is going to be an interesting challenge and I already can't wait to see how the platform will look like after we implement everything we currently have in our minds.
And what are you doing there exactly?
I am leading the marketing department, so I'm responsible for everything related to marketing and public relations, starting from the graphic visualisation up to communication with platform affiliates and marketing strategy implementation. Also, I'm proud of our blog section as there You can find truly valuable materials for growing wealth and not just standard SEO-friendly posts. It is made by people for people. As it should be in the true peer-to-peer lending traditions.
One major pain point of ReInvest24 is the (missing) secondary market. Will it come and when?
Yes, the work is being done and until the end of summer 2020, the secondary market will be delivered.
ReInvest24 projects are available on the EvoEstate marketplace as well but with a lower minimal invest. Do you think it's a win for you?
If we wouldn't be satisfied, probably, we wouldn't cooperate with EvoEstate. At the moment, we see it as an additional marketing channel as many investors know and invest in EvoEstate. Besides, we have lowered our minimum investment for some of our properties to EUR 50. So I believe it may be not the case anymore.
What are the plans the platform has in the future? Recently you offered a new loan type (development loans).
The platform has serious development plans for the upcoming months. First, we are waiting for the secondary market to be delivered until the end of summer 2020. Second, we are currently working on the volumes of our properties as we understand that it is one of the first aspects for healthy growth. Of course, we are still very conservative in terms of what we choose to publish, but Covid-19 opened many opportunities for us which we would like to use. Third, we are looking forward to implementing a loyalty program for our investors and 2-factor authentication. Finally, we aim to be among the first ones in Estonia to acquire the licence when the regulation will come into force. As You can see, the platform is ready to open new opportunities for growth and the following months will be challenging as well as significant for us.
What's your opinion about the status of the industry after the scam platforms and corona?

Everything that currently happens in the p2p industry was expected to happen at some point, as the industry is not regulated yet. Of course, it is extremely sad to see that investors are losing their money but in the long run, it will be good for the industry as well as the investors when the scams and platforms with unsustainable business models will die off due to tighter regulations and more cautious investors. Also, I see that retail investors are finally starting to understand the risks that p2p industry posses (yes, it has risks) and overall become more educated in terms of doing due diligence and evaluating projects where to invest their money in. I still believe in the alternative investment industry and, currently, we are in the clearance phase, after which the market will take absolutely new level of operations.
---
Summary
ReInvest24 is a young platform with a growing track record
Deal flow was a problem in the past but improved a lot lately
The interest rates are compatible, especially for the rental projects as there is a capital gain on top
Secondary market is missing but hopefully will come end of Summer (2020!!)
The 2% investment fee is at least for me still a pain point
The 100€ minimal investment is ok, for some projects it's 50€
---
Do I plan to invest (more again)?
Yes I think so! As you might know I invest in the ReInvest24 projects over EvoEstate which is just more convenient for me. But if there is a cashback campaign I think I don't participate in that. Here it would make sense to invest in the ReInvest24 projects directly. This is based on the prerequisite that the minimal investment to qualify for the cashback isn't that high.
---
Bonus! (10€ + 2%)
Since the start of the week, ReInvest24* started a campaign where investors get the 2% fee back as cashback with an investment of at least 500€. The campaign lasts until August 10, 2020. If you use my link* you get a 10€ bonus on top :).
---
Revolut – My account for p2p and crowdlending
Since I don't want to transfer everything from my regular bank account to the platforms, I was looking for a simpler solution. A few months ago I stumbled upon Revolut*. Since then, I use the app for all financial transactions in the area of p2p/crowdlending and also in business context as freelancer with Revolut for Business*.
After being skeptical at first I'm now a big fan of the app. The execution of transactions to the different platforms and also withdrawals is very fast. In addition you can with the free Revolut VISA card with max. 200€ cash limit per month at an ATM. And that without additional costs!
In addition, Revolut is my faithful travel companion. Since I also work abroad from time to time I also looked for a way to simply exchange currencies. This is easily possible with the Revolut app. Also, without fees (up to 6.000€ per month)!
Using my links for Revolut I get nothing at the moment. Previously I got reward of £2.00-3.00 for a standard card order. For Revolut for Business I'd get up to 66,35€. Reason is that Revolut pausing their affiliate programs.
---
About new projects on Twitter, Instagram and Facebook
On my own behalf, I would like to mention that I also present new projects on Twitter (kaph1016) and Instagram (investdiversified) in which I invest myself. Also on Facebook I have a page. There are also a few insights into how I invest in other areas. So just follow me :).
*Some links in my posts are affiliate or referral links. That means I get a little bonus. For each of those who use these links, however, there are no costs or other disadvantages. On the contrary, there is usually a start bonus or cashback. So if you use these links, you support my blog and for that I say thank you in advance!