Hello dear readers! Today's blog post 'Flash – New Bulkestate product' is about the introduction of a new project type. Bulkestate has been known for real estate projects in Latvia, and that's not changing. However, the platform has now come up with something new. What exactly, you will learn in the following article. Have fun reading!
---
As a small transparency note in advance: As of today, I have not yet tested the product, but will do so later. 50 EUR are already on their way to Bulkestate. This is a sponsored post, but I have set the conditions.
Flash by Bulkestate
Let's first clarify what Flash is all about. In order to be able to finance projects with lower risk quickly(er), Bulkestate has come up with something and uses elements from game theory and behavioral economics.
The so-called flash projects (recognizable by the flash icon) have an interest rate of 2% per year. Yes, read correctly! Only a meager 2%. However, investors get the chance to win up to 10.000 EUR, depending on the project. This is the gamification element mentioned above.
So how does this work exactly? Let's say a project with an investment amount of 100.000 EUR and a term of 12 months is to be financed.
Bulkestate keeps a 'Prize pool' of the loan amount (max. 10.000 EUR)
A lucky investor will be chosen by drawing lots and will receive the sum from the pool only a few days after the project has been financed
If the borrower pays back after 12 months, the remaining investors will get back their initial investment including 2% p.a.
On the official Bulkestate blog you can read the whole thing again.
---
Interview
What's the reason behind introducing Flash?
It's no secret that an investor is constantly looking for tools to increase profitability. Investing in real estate is a conservative type, but we decided to introduce an element of gamification, thus leaving security at the same level, but at the same time giving the opportunity to get increased profitability.

The primary target of Flash is to make real-estate investments more appealing to those people who do not invest in real-estate yet and might not even be saving money.

Flash is also developed as a niche product, which tackles some of the existing problems in the lending and crowdfunding sphere. Flash is meant for smaller investment projects, which are overlooked by the lending sector and we want to solve this existing problem. The lower LTV and liquidity comes naturally and is essential to ensure the investor interests and investment safety. It could be described as a tradeoff for the lower base return and therefore Flash could be seen as a saving account.
How does Flash compete with the original projects on the platform?
Classic projects will still be available on the platform, only some projects with the Flash mark will give the investor the opportunity to get extra profit. Thus, the investor himself makes the decision.

For Flash projects, the LTV will usually be lower than on our other investment opportunities. However, we want to emphasize that LTV is not the only determining factor for risk assessment, Flash projects could also have similar LTV as our other investment projects, but in those cases, liquidity is the determining factor.
Has it any influence on the group-buying opportunities?
Flash projects won't have any influence on group-buying deals. We are looking at Flash as a completely separate product that will not compete with the existing Bulkestate investment opportunities.
Is Flash only a first step? If so, what are possible next steps or improvements?
For the moment we don't plan any further developments and improvements for Flash but we are continuously developing and having plans for our platform.
---
First Flash project
With the Sunīši project, a first Flash project is already available on the Bulkestate platform. I plan to invest 50 EUR there. This is also, as with other Bulkestate projects, the minimum investment. As you can read in the interview, you can directly see the low LTV of only 9%.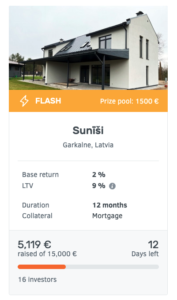 The 2% interest rate is of course not really enticing, but the prize pool is even more so. But of course it's pure luck if you win something here. Therefore, I will also take a maximum of 2-3 projects from Flash. How do you see the whole thing? Feel free to write your feedback in the comments!
---
Bonus
If you register with my link on Bulkestate*, I receive a 5 EUR bonus once there is an investment made and also 2% cashback on the investment for 180 days.
---
About new projects on Twitter, Instagram and Facebook
On my own behalf, I would like to mention that I also present new projects on Twitter (kaph1016) and Instagram (investdiversified) in which I invest myself. Also, on Facebook I have a page. There are also a few insights into how I invest in other areas. So just follow me :). *Some links in my posts are affiliate or referral links. That means I get a little bonus. For each of those who use these links, however, there are no costs or other disadvantages. On the contrary, there is usually a start bonus or cashback. So if you use these links, you support my blog and for that I say thank you in advance!