Welcome back! With this blog post there is again an update on my purchases and sales from March. The month is not completely over yet, but my activities are finished. In total there were eight purchases and one sale. Which companies I have added or sold and why the whole thing, you will learn in the following post. Have fun reading!
---
Stock purchases March 2021
Also in March it has not really wanted to work out with the cash build-up :). After all, the savings plans are stopped, but individual purchases I have then made. In total, I was able to invest again about 6.300 EUR.
---
Commodities – Manual savings plan
As in February, I have again added something in the area of commodities to increase the existing positions. About 1.250 EUR were again invested in four stocks.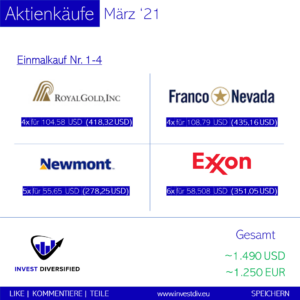 The last opened positions Royal Gold (RGLD) and Franco-Nevada (FNV) were strengthened somewhat and 4 shares for 104,58 USD and 4 shares for 108,70 USD per share were bought in my largest portfolio at Captrader (a German introducing broker). Likewise Exxon Mobil (XOM) was again topped up with 6 shares at 58,508 USD. The price of XOM has recently run very well, but just in the last few days also came back a little. Likewise, I bought Newmont Mining (NEM) with 5 shares at 55,65 USD per share in the Degiro* portfolio.
Overall, the positions now look like this:
---
Safehold
With Safehold (SAFE), I have once again added a REIT to my portfolio. This time from the 'Diversified' sector. Fits me well :). How does SAFE earn its money? With land and ground! Huh? Yes, the New York-based company focuses entirely on ground leases, combined with a subscription model.
You may ask what is so great about ground leases. Well, this type of contract has two key advantages:
Ground leases are before equity and before the mortgage of the building. Therefore, you only have tenants with AAA credit ratings.
If such a lease defaults, the leasehold in the U.S. passes to the owner. Three guesses who that is?
There are some other mega pluses to SAFE. They have a presence in almost every major city in the US. Even during Corona, they had 100% occupancy rates. Almost 90% of the properties or leases have >60 years remaining on them! There is a lot more information and maybe one or two hooks.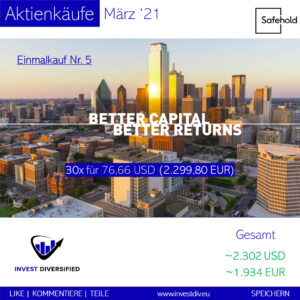 I put 30 shares at 76,66 USD each into my portfolio. Including fees, that's about 2.302 USD or the equivalent of 1.934 EUR.
---
B. Riley Financial
There is an excellent company introduction (in German) on my next purchase. Namely to a hidden champion named B. Riley Financial (RILY). The company is a financial conglomerate, which is a great address for raising capital. As a result, RILY is also benefiting greatly from the wave of IPOs and SPACs. Despite the sharp rise in the share price last year, the P/E ratio is 8!!! I can already feel another positive effect. Namely, it was pay day and a special dividend of 3 USD will be paid in addition to the quarterly dividend of 0,50 USD. Means 70 USD dividend for me!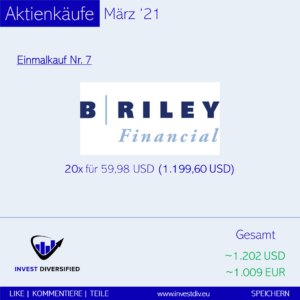 I bought 20 shares at 59,98 USD each. Including 2 USD order fee at Captrader the whole purchase cost me 1.201,60 USD.
---
Abbvie
About a week ago, the FDA (U.S. Food and Drug Administration) announced its intention to extend the review of Abbvies (ABBV) drug 'Rinvoq' for rheumatoid arthritis by three months. Abbvie's share price subsequently fell nearly 7%. Exactly this dip I used to buy again a few shares. So far, I already had 12 shares in the Degiro* portfolio.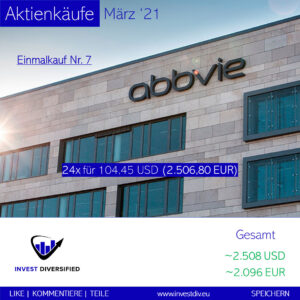 Now I have added 24 more Abbvie shares at 104,45 USD each. The costs for this including order fees were ~2.508 USD or the equivalent of ~2.096 EUR. The position is now worth approx. 3.774 USD.
---
Klöckner & CO SE
Klöckner & CO SE (KCE) is a German steel and metal trader that has set itself nothing but the goal of digitizing the steel industry. Ok?! And that makes perfect sense. After all, the distribution of steel and metal is extremely inefficient and intransparent. Market price fluctuations, intense competition and overcapacities are among the biggest problems. That's why the industry, and with it Klöckner, must disrupt itself. Fortunately, CEO Gisbert Rühl is a great advocate of digitalization.
The digital transformation is already showing its first results. Almost half of sales come in through digital channels. With XOM Materials, there is also an open industry platform with marketplace and much more.
40% of turnover comes from the US division. There, the company has a high market share and the upcoming economic stimulus program, the demand for steel and the rising steel price are creating growth fantasies.
As in the previous year, there is no dividend. The last one was 0,30 EUR per share in fiscal 2018. At the share price at that time, this meant a dividend yield of >4%.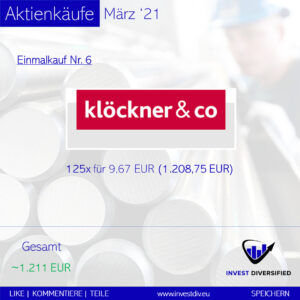 So my new purchase is a bit more speculative this time. I bought 125 shares at EUR 9,67 of Klöckner & Co SE.
---
Stock sales March 2021
The purchase of the Klöcker shares was financed by a sale. I actually sell rather rarely, but here I have now ended the investment prematurely due to the current situation and figures.
Fraport
2021 will also bring further losses at Fraport (FRA). In my personal opinion, it will continue beyond 2023 until the situation returns to normal. Dividends are no longer paid and the share price has not risen much since the November increase due to the initial euphoria about the opening. Therefore, Fraport is out of the portfolio!
I sold my 23 Fraport shares at EUR 52,55 EUR per share and realized a profit of about 23%. The sales proceeds were invested in the purchase of Klöckner & Co SE shares.
---
My broker(s)
I have several brokers for my stocks, but the majority are German ones, so European readers of my blog cannot register there. As you may know I'm very transparent about the income I receive if you use one of my * affiliate or referral links. Most of the time there is a bonus for you, but never ever costs!
Degiro is my second largest broker. A while ago they did a fusion with the German broker flatex, and it's now the biggest broker in Europe. You can trade already from 0,50€ directly on the NYSE or other US stock exchanges. Also, I trade European options there.
If you use my link* and register an account on Degiro you get a refund of 20€ transaction credit. You only need to spend 20€ transaction credit within 3 months. If you do so, and only then, I have also the possibility to get a refund.
---
About new projects on Twitter, Instagram and Facebook
On my own behalf, I would like to mention that I also present new projects on Twitter (kaph1016) and Instagram (investdiversified) in which I invest myself. Also, on Facebook I have a page. There are also a few insights into how I invest in other areas. So just follow me :).
*Some links in my posts are affiliate or referral links. That means I get a little bonus. For each of those who use these links, however, there are no costs or other disadvantages. On the contrary, there is usually a start bonus or cashback. So if you use these links, you support my blog and for that I say thank you in advance!