Hello everyone! The last blog post about my stock purchases wasn't too long ago, but then there were more stock purchases January 2021 #2. Namely, two more opportunities that I wanted and also had to take advantage of. In contrast, I also sold one stock. Which companies are new in the portfolio or had to leave it, you will learn in the following blog post. Happy reading!
Stock purchases January 2021 #2
Another Canadian company found its way into my portfolio. I bought 100 stocks of Alimentation Couche-Tard (ATD.B) for 37,115 CAD per share directly at the Toronto stock exchange. In total ~3.716 CAD including fees or converted approx. 2.414 €.
ATD.B is one of the world's largest operators of so-called convenience stores, 50% of which are owned and 50% leased to franchisees. My reason to buy was the news about the planned takeover of the French retailer and wholesaler Carrefour. ATD.B investors found this rather uncool, the share price went down over 10%, and I bought. In the meantime, they have also refrained somewhat from a takeover, as the French government has also blocked. I believe that ATD.B can continue its growth strategy.
---
[aaq isin="US30303M1027″ chart="RevenueChart"]
Purchase No. 2 was Facebook. Here I had already three stocks. The splendid earnings, which were far above expectations and the share price, which tended to run sideways, prompted me to increase the position. I bought 8 shares at 273,98 USD per share directly on Nasdaq. In total ~2.194 USD incl. fees or about 1.807 €.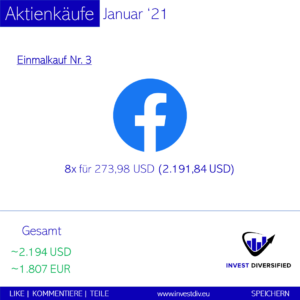 ---
Stock sales
[aaq isin="US8754651060″ chart="QuoteChart"]
Tanger Factory Outlet Centers (SKT)
Actually, I had planned to participate in the whole Wallstreetbets story at most via option trading. But since SKT also has a higher short ratio, there was also a good drive in the price. The dividend was also reinvested. Of my 156 shares, 56 are with Degiro and 100 with Captrader. I will keep the latter (for now) and have already sold a covered call. At Degiro, however, I sold my 56 shares at 15.46 USD per share. I'm sure I could have done better, but a profit is a profit. The entry price of these 56 shares was 6.54 USD per share.
---
My broker(s)
I have several brokers for my stocks, but the majority are German ones, so European readers of my blog cannot register there. As you may know I'm very transparent about the income I receive if you use one of my * affiliate or referral links. Most of the time there is a bonus for you, but never ever costs!


Degiro is my second largest broker. A while ago they did a fusion with the German broker flatex, and it's now the biggest broker in Europe. You can trade already from 0,50€ directly on the NYSE or other US stock exchanges. Also, I trade European options there.
If you use my link* and register an account on Degiro you get a refund of 20€ transaction credit. You only need to spend 20€ transaction credit within 3 months. If you do so, and only then, I have also the possibility to get a refund.
---
About new projects on Twitter, Instagram and Facebook
On my own behalf, I would like to mention that I also present new projects on Twitter (kaph1016) and Instagram (investdiversified) in which I invest myself. Also, on Facebook I have a page. There are also a few insights into how I invest in other areas. So just follow me :).
*Some links in my posts are affiliate or referral links. That means I get a little bonus. For each of those who use these links, however, there are no costs or other disadvantages. On the contrary, there is usually a start bonus or cashback. So if you use these links, you support my blog and for that I say thank you in advance!