Hello dear readers! Shortly before Christmas there is again some reading material for you. Since I could not publish a blog post on stock purchases in October, I have combined this with November purchases. So today there is from me a review of my stock purchases November and October 2021. Enjoy reading!
---
Stock purchases October 2021
In October, significantly less was invested in equities than in the months. Only two small, strategic purchases of about 2.005 EUR were executed. But now let's start with the regular purchases!
---
One-time purchases
Embracer Group
For the first purchase in October, I found what I was looking for in Sweden. The company has been on my watchlist for a while and now I have put my foot in the door and opened a first position. In the gaming sector, I have only been involved via Tencent so far.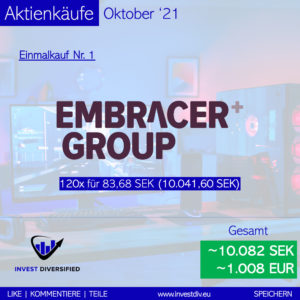 At Degiro* I bought 120 shares of Embracer Group AB (EMBRAC B) at 83,68 SEK per share on the Scandinavian joint stock exchange OMX. Including order fees, this cost me ~10.082 SEK or ~1.008 EUR.
---
Sprott Physical Uranium Trust
This year, I'm increasingly concerned with the commodity portion of my portfolio and I'm considering whether I should make some adjustments here and there. In this process, the topic of uranium came up.
For Germany, of course, it makes no sense to reopen the nuclear power plant discussion. But what about other countries? France, for example, wants to rely on mini-nuclear power plants in the future. Other countries are planning new construction or lifetime extensions in order to reach the 1,5 degree target even halfway.
Uranium, as a very cyclical raw material, normally goes through boom & bust cycles depending on supply and demand. However, since there is no alternative fuel (yet), this leads to panic buying by NPP operators from time to time.
Currently, the production volume is as low as it was last in 2008. In addition, the demand (based on 2020) is only covered by 75%. Furthermore, there are about 450 active reactors, over 150 are under construction or have been ordered, and well over 300 are in planning.
So my expectation is that demand will increase sharply and the price of uranium 🚀🚀🚀🚀 #moon.
The supplier Sprott has several trusts for gold, silver, palladium and recently for uranium.
So I bought 100 shares of Sprott Physical Uranium Trust (U.UN) at 14.32 CAD per share on the Toronto Stock Exchange into the Captrader portfolio. Including order fees, this is ~1.433 CAD or ~997 EUR.
---
Stock purchases in November 2021
In contrast to the previous month, there was significantly more activity in November. In total, the purchases (mainly re-buys) amounted to about 15.875 EUR.
---
One-time purchases
PayPal
Towards the end of November, I opened an initial position of 6 shares in PayPal (PYPL) at 201.89667 USD per share in my Captrader account. Including order fees, that was ~1.213 USD or ~1.067 EUR.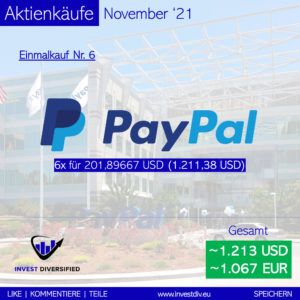 I still don't consider Paypal cheap, not by a long shot. But I certainly thought the stock was oversold at the time I bought it. You also have to evaluate the future risks for yourself. If this fits your own risk-return profile, you have 'a wonderful company at an attractive price'.
After the purchase, the 200 USD mark was torn down quite neatly and it could therefore continue to go downhill. For me, however, this only means that I am preparing another tranche.
---
Franchise Group
Another purchase was the Franchise Group (FRG), of which I put 30 shares at 47.1675 USD per share in the Captrader depot. That's a total of ~1.417 USD or ~1,.241 EUR including order fees.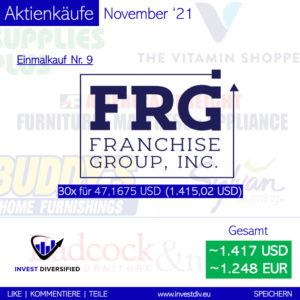 FRG is an acquirer from the consumer cyclical sector that has a mega dull business model. Well, they buy, manage and build franchises. So we are in a niche here!
The scaling business model is designed '… to support attractive and growing dividends to shareholders.' Of course, that immediately gets my attention, haha!
The average margin of FRG's business model is over 40%, which provides decent power. In the long term, they're aiming for a 25% payout ratio on dividends, so it's pretty conservative. Last year, the dividend was raised by a whopping 50% from 1 USD to 1,50 USD, and decent increases are expected going forward.
Based on my original purchase price, the quarterly dividend paid is about 3,2%. That was the status until FRG announced to increase the quarterly dividend by another 67% to 0,625 USD. With a dividend yield of about 5,3%, I got a real high dividend stock. Tastes good!
---
Re-Buys
Realty Income (O)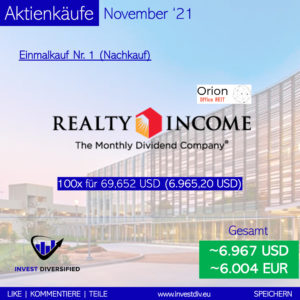 I increased my monthly payer Realty Income by 100 additional shares of Realty Income Corp (O at 69,652 USD per share in the Captrader portfolio. Including order fees, this cost me ~6.967 USD or ~6.004 EUR.
In principle, I even bought two companies. The acquisition of VEREIT (VER) was already completed with a merger, and then on November 12 I was also booked shares in the spin-off Orion Office REIT (ONL).
The whole thing happened 10:1, so for 10 O shares I received one share of Orion Office REIT. This would also put me in the Office REIT sector and I plan to add to ONL in the future.
So far I already had 18 shares, to which the 100 new ones will be added. With the additional purchase, REITs are now again weighted at ~15% in the stock portfolio.
My very good equity increases to 66,95 USD and the dividend yield is ~4,23%.
---
Monster Beverage Corp (MNST)
It was only in September that I opened a scout position with Monster Beverage and decided to add another tranche at the beginning of November.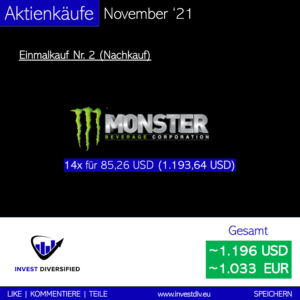 In September, I also added 14 shares of Monster Beverage Corp (MNST) to the Captrader portfolio at 85,26 USD per share. This corresponds to 1.196 USD or 1.033 EUR including order fees. Up to now I had 13 shares in the depot, by the additional purchase it is now 27 pieces.
The reason for the additional purchase was the drop in the share price by a good 10%. As with many companies, the supply chain problem was responsible for this, more precisely aluminum. I was able to push the purchase price down to about 90 USD.
---
BioNTech SE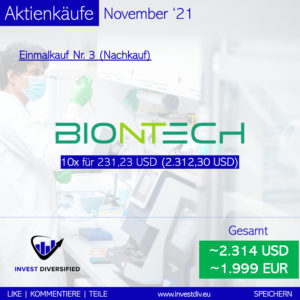 I also bought 10 shares of BionTech SE (BNTX) at 231,23 USD per share into the Captrader portfolio. This corresponds to 2.314 USD or 1.999 EUR including order fees.
From the ATH BNTX came already neatly back. After the 'pill news' of Pfizer it went down again a good piece. I made the additional purchase one day before the quarterly figures, which of course turned out bombastic. Therefore, I also decided to add another 10 shares at 235,12 USD.
I already had 5 shares, a total of 25 shares are now in the depot through both additional purchases.
---
Alibaba (BABA)
Investing in China is less of a trend among many finfluencers. I see it a little differently! Here you always have to look whether there is a reasonable risk-return profile. And for me it does with Alibaba, even after less good quarterly figures.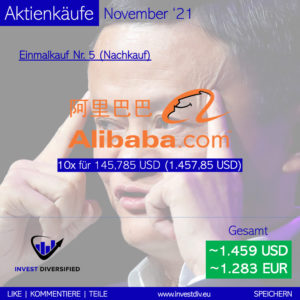 Therefore, I've added another 10 shares of Alibaba (BABA) at 145,785 USD per share to the Captrader account. Including order fees, that's ~1.459 USD or 1.283 EUR invested.
The 10 shares joined the already existing 30 shares. In total, the position consisted of 40 shares. Holding? Well, as with BNTX, I bought another 10 shares of BABA (at 133,43 USD) and now have 50 shares in the portfolio.
I was able to lower the purchase price by the additional purchase again to 192,17 USD per share.
A small spoiler in advance, I will sell the entire position to minimize at least the delisting risk. In December or January, I will then switch to the "real" share (which is actually also only a VIE construct).
---
Rio Tinto
Another purchase was made under the motto 'If you want it to be sustainable in the long term, you have to get your hands dirty in the short term'.
I bought 60 shares of Rio Tinto PLC (RIO1) at 54,30 EUR per share into the Captrader portfolio. That corresponds to approx. 3.261 EUR incl. order fees.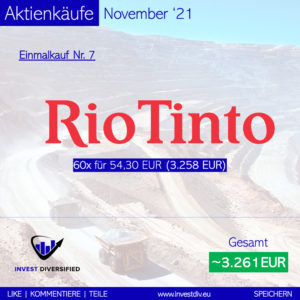 I already had 20 shares of the commodity company in the depot, now there are 80 shares.
Yes, the dividend is high and will probably also be paid next year. I don't want to say how high, because it was not the reason for the additional purchase. Commodity stocks are generally cyclical, and you should never make fixed calculations with them.
Rio Tinto has a large exposure to iron ore and if you look at the iron ore price, you will see a certain correlation. This is/was due to China's problems in the construction sector and the resulting cutback in steel production (which is now being ramped up again). On the other hand, Rio Tinto also produces copper and bauxite and other raw materials that are urgently needed for the transformation to renewable energies.
The purchase price has increased to 53,09 EUR as a result of the follow-up purchase.
---
VISA
Another additional purchase concerned Visa (V), of which I put another 7 shares at 198.155 USD per share into the Captrader deposit. That corresponds to approx. 1.389 USD or 1.240 EUR incl. order fees.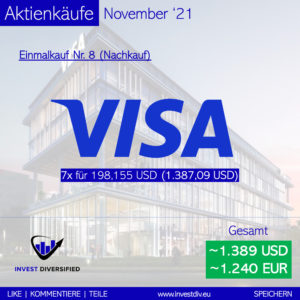 I had already opened a small position with Visa in June last year, only 3 shares at 191,33 USD. Through the additional purchase, I now have 10 shares at an average purchase price of 196,11 USD.
I see the fair value somewhere at ~213 USD. Therefore, the additional purchase was also at a slight discount, whereby discount does not mean that V is cheap!
---
Sibanye Stillwater
There was one additional purchase in November after all. I added 100 shares of Sibanye Stillwater Ltd. (SBSW) at 11.918 USD per share into the Captrader deposit. This corresponds to 1.194 USD or 1.055 EUR including order fees.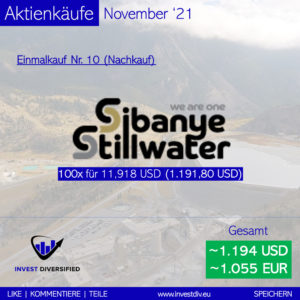 What does SBSW do? The Westonaria-based company is the largest platinum and palladium producer in the world. As a little treat on top also the third largest gold producer. Since the price of platinum/palladium has fallen sharply, the price of SBSW has also fallen sharply.
Through the additional purchase, I was able to lower the purchase price now to 15,97 USD per share.
---
My broker(s)
I have several brokers for my stocks, but the majority are German ones, so European readers of my blog cannot register there. As you may know I'm very transparent about the income I receive if you use one of my * affiliate or referral links. Most of the time there is a bonus for you, but never ever costs!
Degiro is my second largest broker. A while ago they did a fusion with the German broker flatex, and it's now the biggest broker in Europe. You can trade already from 0,50€ directly on the NYSE or other US stock exchanges. Also, I trade European options there.
If you use my link* and register an account on Degiro you get a refund of 20€ transaction credit. You only need to spend 20€ transaction credit within 3 months. If you do so, and only then, I have also the possibility to get a refund.

I've been with the German broker Trade Republic for a year now and they expand to Italy in the Netherlands! My savings plans for individual shares and ETFs have been running there for a short time. Free of charge! Otherwise, the trade is also quite cheap with 1 € fee for buying or selling securities.
If you use my Trade Republic link* I receive up to 45€.
---

About new projects on Twitter, Instagram and Facebook
On my own behalf, I would like to mention that I also present new projects on Twitter (kaph1016) and Instagram (investdiversified) in which I invest myself. Also, on Facebook I have a page. There are also a few insights into how I invest in other areas. So just follow me :).
*Some links in my posts are affiliate or referral links. That means I get a little bonus. For each of those who use these links, however, there are no costs or other disadvantages. On the contrary, there is usually a start bonus or cashback. So if you use these links, you support my blog and for that I say thank you in advance!