Hello and welcome to the end of the month! There were then again a few stock purchases in April 2021, so with this blog post I want to give you again a brief update on my purchases and sales. There were four purchases and one sale. The focus this time was clearly on one region. But there is more about it in the blog post!
---
Stock purchases April 2021
As in the previous month, focusing on piling up cash didn't work out, so I invested approx. 7.041 EUR in April.
---
Baidu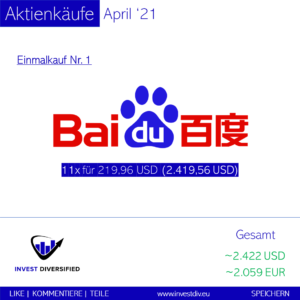 Right at the start of April, I was quite active and found a few interesting stocks by the temporary sell-off in China. So far, I already had with three Chinese stocks in the portfolio, namely Alibaba, Tencent and KE Holding. I stumbled over Baidu.com (BIDU), which I considered to be significantly undervalued at the time of purchase. I added a total of 11 shares to my portfolio at 219,96 USD per share at my broker Captrader. In total, the order including fees amounted to ~2.422 USD or the equivalent of ~2.059 EUR. I deliberately took the ADR risk because of the possible option trading in USD.
JD.com
The 2nd new stock in the portfolio is JD.com (JD). I bought 30 shares at 83,90 USD per share, for a total of 2.519 USD (incl. fees) or the equivalent of ~2,.142 EUR.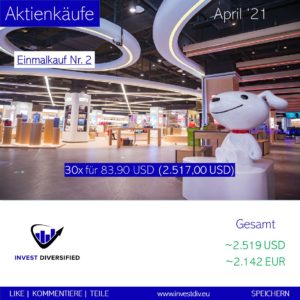 Since I also want to write options on JD in the future, I have also deliberately opted for the ADR variant here, instead of buying directly at the SEHK. The proportion of Chinese shares in the portfolio is now slightly more than 8%. So there is still some room for improvement!
---
Alibaba
I also bought Alibaba (BABA) on the NASDAQ. I already had 7 shares in the Captrader* portfolio, another 7 shares were now added for 228,10 USD per share. In total, the order amounts to 1.599 USD (incl. fees) or the equivalent of ~1.343 EUR .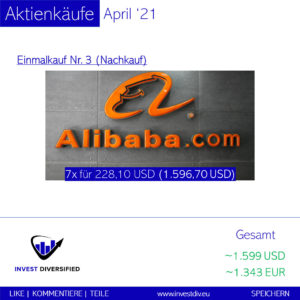 I was able to lower my inital price pretty much, but generally the position is still well underwater. Patience is needed here as with the other Chinese value.
---
Flow Traders
Another additional purchase was Flow Traders (FLOW) on AEB. So far, I already had 60 shares in the Captrader portfolio and have now increased to 100 shares for 37,38 EUR per share. In total, the order amounts to 1.497 EUR (incl. fees).
As the ex-dividend day was on April 27, the 40 new shares were also entitled to a dividend of 2,50 EUR per share!
---
Tencent
In addition, I also made a smaller one-time purchase at Scalable Capital and bought 4 more shares into the portfolio at 66,90 EUR each. My Tencent position now consists of 17 shares and a few fractional shares.
---
Stock sales April 2021
Apple
Yes I did it! My four Apple shares went out of the portfolio for 133,57 USD per share. 532,28 USD went into cash. The reason for the sale was certainly not the quality of the company. Apple, as we all know, has a brutal cash position. But somehow they don't know what to do with it except buying back shares. Nevertheless, only a maximum of 25% is distributed as a dividend. I find that rather weak. In addition, there are some other little things. For example sales growth, you can take a look at that and compare it with the peers. The increased debt (by far not a problem) is also one of those things.
---
My broker(s)
I have several brokers for my stocks, but the majority are German ones, so European readers of my blog cannot register there. As you may know I'm very transparent about the income I receive if you use one of my * affiliate or referral links. Most of the time there is a bonus for you, but never ever costs!
Degiro is my second largest broker. A while ago they did a fusion with the German broker flatex, and it's now the biggest broker in Europe. You can trade already from 0,50€ directly on the NYSE or other US stock exchanges. Also, I trade European options there.
If you use my link* and register an account on Degiro you get a refund of 20€ transaction credit. You only need to spend 20€ transaction credit within 3 months. If you do so, and only then, I have also the possibility to get a refund.
---
About new projects on Twitter, Instagram and Facebook
On my own behalf, I would like to mention that I also present new projects on Twitter (kaph1016) and Instagram (investdiversified) in which I invest myself. Also, on Facebook I have a page. There are also a few insights into how I invest in other areas. So just follow me :).
*Some links in my posts are affiliate or referral links. That means I get a little bonus. For each of those who use these links, however, there are no costs or other disadvantages. On the contrary, there is usually a start bonus or cashback. So if you use these links, you support my blog and for that I say thank you in advance!