Hello everyone! In the next few days the new P2P portfolio update will be released. But before that I would like to publish an extra blog post to Reinvest24. My investment on the platform has been growing steadily over the last few months and now there is a new, very exciting project type. Therefore, there is a Reinvest24 update – Green energy projects blog post. What exactly it is about, you will learn in the blog post. Have fun reading!
---
Green energy projects
With the new project, Reinvest24 now also enables investments in sustainable energy projects and at similarly attractive interest rates as for the other project types. Why is that?
Well, especially in the first phase of such projects, banks, for example, are not interested in financing because they consider the risk to be too high. This may well be the case, but there are certainly projects that have an interesting risk-return profile here. There are interesting opportunities here for platforms like Reinvest24.
The location with Moldova is also interesting for the first sustainable energy project, as things are a bit less bureaucratic there. The state explicitly wants to enable the implementation of renewable energy projects, such as solar parks, on agricultural land and is lowering the entry barriers for this through faster approvals, etc.
---
Bubueci green energy project – 1. stage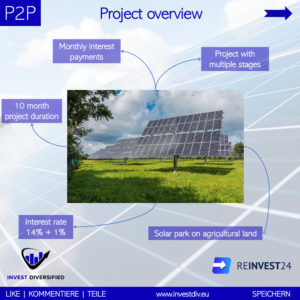 ---
Investment case
---
Location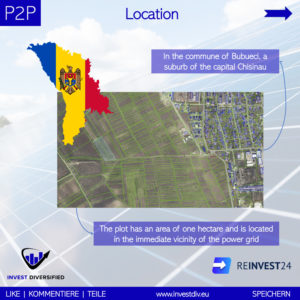 ---
My investment
Meanwhile I am invested in 20 different projects with a total amount of about 2.100 EUR at Reinvest24. The new energy project is to be no. 21.
14% with a relatively short term for the 1st stage in combination with the given securities result in an attractive investment opportunity for me. Often there is a lack of certain approvals or one of the many parties involved is not on board. None of that is the case here. Permits, governmental approval as well as refinancing as the most important issues are clarified. Therefore, I will also invest 100 EUR in this project.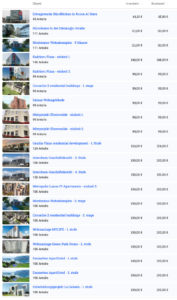 Besides the new green energy project there are five projects available on the primary market. So you might take a look and don't forget the bonus*!
---
Bonus

If you register with my link on Reinvest24*, you will receive a 10 EUR bonus. I will receive 1% of the investment.
---
About new projects on Twitter, Instagram and Facebook
On my own behalf, I would like to mention that I also present new projects on Twitter (kaph1016) and Instagram (investdiversified) in which I invest myself. Also, on Facebook I have a page. There are also a few insights into how I invest in other areas. So just follow me :). *Some links in my posts are affiliate or referral links. That means I get a little bonus. For each of those who use these links, however, there are no costs or other disadvantages. On the contrary, there is usually a start bonus or cashback. So if you use these links, you support my blog and for that I say thank you in advance!