Hello everyone! Due to my broadly diversified investments, I'm often dealing with industries or markets that are rather less on the radar of most investors. The Moldovan real estate market is one of them. Today's blog post is about exactly that. I would like to give you some insights on how my Moldovan Reinvest24 projects have developed and how a possibly necessary debt collection process in Moldova works. Have fun reading!
---
Reinvest24 – The platform
In case someone doesn't know the platform yet. Reinvest24 is a real estate platform from Estonia that offers one of the highest yields on the market and offers secured loans with a maximum LTV of 50%. Real estate investors will understand that such a low LTV means that the property is very well secured, and it is usually hard to find such high yields. However, since Reinvest24 focuses on a developing market, this is possible after all. That makes us investors happy, of course!
Furthermore, I can say that Reinvest24 has grown quite fast in the last year. Compared to many other platforms, the Estonian platform did not experience any late payments or defaults. For me, this is an indication that the due diligence of the projects and the risk assessment by Reinvest24 is quite good.
---
Reinvest24 – Real estate in Moldova
Moldova
Before we start, we should at least take a brief look at Moldova. The southeastern European state has only about 2,68 million inhabitants and is thus smaller than Berlin in terms of population.
Moldova's neighbors are Romania and Ukraine. The country is a potential EU membership candidate and the country and has had a pro-Western head of government, Maia Sandu, since October 2020.
The capital is Chișinău with a population of just over 550,000. This is also the focus of the real estate projects.
Molvodan economy
Moldova is something like the rising star of Southeastern Europe. With the aforementioned pro-Western government, further growth is only a matter of time. According to the International Monetary Fund, Moldova's economy is growing by 4,5% this year. The unemployment rate will also continue to decline and is estimated to be only 3% in 5-6 years. By comparison, Germany's unemployment rate was 6,3% in January (also Corona-related).
Real estate demand
The economic conditions are important, of course, but we are primarily interested in the real estate market and demand in order to be able to assess whether an investment is profitable at all. The largest local real estate agencies expect demand to continue to rise in 2021, especially for new buildings.
The improved economic situation will also ensure an increase in the real income of the population, which in turn will be more likely to be able to afford housing. To illustrate this somewhat, let me give you an example. If the affordability of a property of e.g. 70m² is defined as property price divided by average salary, a Moldovan citizen had to work 11 years in 2017 to be able to afford such a property. In 2019, it was only 9 years!
---
My projects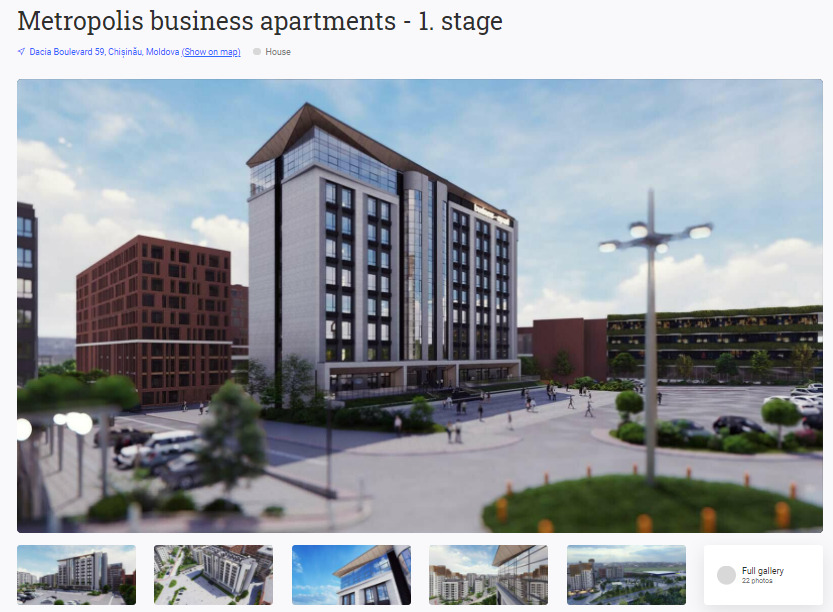 I'm invested in quite a few Moldovan projects from Reinvest24. Below is a small listing:
All projects pay the contractual interest on time and one of the projects will be repaid soon. But probably more about that in a separate post!
There are also regular insider updates for the investors of the projects including video material. Here are two examples:
---
Debt collection process on Reinvest24
In order to avoid recovery in the first place, projects should be subject to a suitable due diligence process. Reinvest24 has always established such a process, which I would like to refer to here.
There are still some legal peculiarities of Moldova, which bring additional complexity into the topic, but at the same time another security level:
Before a loan is granted, the National Bank of Moldova must approve it.
There is no legal contract of debt for the purchase of real estate! However, there are reservations that work in such a way that the buyer pays 30-50% in advance and the property is transferred to the name of the buyer.
The developer must finish the property to receive the rest of the money
Also, the developer is not allowed to put mortgages on this property
At the Finfellas conference, Reinvest24 CEO Tanel Orro also shared some more insights on this. Take a look!
However, should a potential default occur, there is a defined but flexible procedure. First, contact is made with the borrower to fully understand the situation and possibly present possible solutions directly in the first conversation. Taking legal action directly is often not the best way to proceed, as this puts investor funds at additional risk if a default is forced without evaluating alternative options. This has already been proven on various other platforms and in other projects.
If legal steps should become necessary, the whole thing goes the known way. During this process, the court will be involved and if no other agreement is reached, the local representative of Reinvest24, who holds all collateral in favor of the investors, will sell it and initiate the recovery process.
---
Bonus


If you register with my link on Reinvest24*, you will receive a 10 EUR bonus. I will receive 1% of the investment. In addition, Reinvest24 has a 3 YEARS 3 EXITS BONUS cashback campaign until May 12, 2021.
+0,25 % on all investments up to 1.000 EUR
+0,5 % on all investments from 1.001 to 5.000 EUR
+0,75 % on all investments from 5.001 EUR
---
About new projects on Twitter, Instagram and Facebook
On my own behalf, I would like to mention that I also present new projects on Twitter (kaph1016) and Instagram (investdiversified) in which I invest myself. Also, on Facebook I have a page. There are also a few insights into how I invest in other areas. So just follow me :). *Some links in my posts are affiliate or referral links. That means I get a little bonus. For each of those who use these links, however, there are no costs or other disadvantages. On the contrary, there is usually a start bonus or cashback. So if you use these links, you support my blog and for that I say thank you in advance!