Hello dear investors,
portfolio-update-october-2019
today the portfolio update October 2019 is on the agenda. What has happened in my portfolio? Well, if you look at the total amount it's less than in September. However, there have been some redeployments as part of my platform consolidation. What exactly was moved from where to where and why I would like to describe in the following blog post.
---
XIRR Table

portfolio-update-october-2019
| Platform | XIRR | Change to previous month | Invested |
| --- | --- | --- | --- |
| | 25,01% | - 1,85% | 1.130€ |
| | 12,86% | + 0,26% | 5.100€ |
| IUVO | 11,94% | - 0,32% | 1.095€ |
| | 11,67% | - 0,18% | 655€ |
| | 11,69% | + 0,55% | 665€ |
| | 11,03% | + 0,68% | 1.045€ |
| | 10,46% | + 0,26% | 1.055€ |
| | 9,50% | + 0,31% | 4.760€ |
| | 9,42% | + 3,26% | 1.575€ |
| | 11,62% | + 3,78% | 130€ |
| | 5,93% | -0,17% | 890€ |
| | 3,38% | + 1,66% | 1.595€ |
| | 0,33% | - 3,11% | 355€ |
| | 1,08% | + 0,22% | 490€ |
| | 1,99% | + 1,99% | 1.005€ |
| | 0,15% | + 0,02% | 1.215€ |
| | -0,31% | + 1,53% | 1.215€ |
| Grupeer | 13,10% | + 0,60% | 1.770€ |
| Monethera | 20,83% | - 0,43% | 1.200€ |
| Envestio | 16,84% | - 0,40% | 1.830€ |
| Kuetzal | 18,78% | - 0,49% | 1.730€ |
---
portfolio-update-october-2019

Wisefund confirms his 1st and now comes to an XIRR of 25,01%. The XIRR is now likely to fall further, adjusting somewhere at 18-19%. I have now invested in 13 projects at Wisefund. Three projects are not yet fully funded and are suitable for a first investment. My investment in the individual projects is 50-200€. In total I'm invested at Wisefund with 1.200€. For more information about the platform, read the interview with CMO Ingus Linkevics.
portfolio-update-october-2019

The No. 2 in the XIRR ranking in October is also Monethera with an XIRR of 20,52% (-0,74%). I'm invested in all available projects, in total 12, with 50-175€. Also on this platform I am now with 1,200€. By the way the project 'Transportation of lumber' was successfully repaid when writing this blog post. In an interview with CEO Andis Tauber, you can get more information about Monethera.

3rd place also goes in October with 18,78% (-0,49%) to Kuetzal. Other than in September there were enough projects this time and I was able to invest in 4 of them. A total of 1,730€ has now been invested there. Kuetzal runs completely silent and interests are paid on time. That's how it can go on!
The Kuetzal link gives you 0,5% cashback on your investments for 180 days.

4th place also remains unchanged and goes to Envestio with an XIRR of 16,84% (-0,40%). Interest at Envestio are paid on time. In October two new projects were added and also a few old ones, as know from Envestio in several tiers. In total, there are now approx. 1.830€ invested.
5€ are available as a bonus* at the start (100€ minimum investment) and also 0,5% cashback during the first 270 days.

Also in October, 5th place goes to Grupeer again. The XIRR is now 13,10% (+0,23%). After the three new loan originators from Kenya (e-Mkopo), Latvia (Sauleskredits.lv) and Great Britain (Cubefunder) in the previous month, Epic Cash (Russia) and Lion Lender (Russia) were also added in October (incl. cashback). In addition, Grupeer has introduced a rating of its loan lenders, which you can read here.
After my thoughts to increase the investment at Grupeer I did it and moved a part from Mintos to Grupeer. So now I come to approx. 1.770€.
portfolio-update-october-2019

Mintos also holds its place in the XIRR ranking and still stands at 12,86%. As mentioned and despite my announcement not to withdraw any money, I have money transferred to Grupeer. This also benefits diversification.
Unfortunately there were negative news. It seems that the loan originator Rápido finance have some bigger problems. I didn't have any of their loans in my Mintos portfolio. Also the Aforti story isn't over. There was also a adjustment of the loan originator ratings at Mintos. But there is still some positive news. The Ukranian loan originator Dinero is now also paying interest on late payments.
Mintos* offers you a 1% bonus on the average investment at the start on the platform. This will be charged after 30, 60 and 90 days.

IUVO comes to 11,94% (-0,32%) at 1.095€ investment. IUVO or the loan originators do not pay interest on late loans. Therefore, there is a difference between the XIRR and the return displayed in the dashboard (14,14%). Furthermore, everything is nicely reinvested.
By the way, IUVO offers you up to 90€ for the start on the platform. 30€ is available for an investment of 1.000€, another 60€ for 2.500€. If you're interested just send me a short message. Unfortunately a small manual interaction is required.

11,69% (+0,55%) is the XIRR on PeerBerry . All short-term loans have now expired and only long-term loans are left in the portfolio. These are then transferred bit by bit elsewhere, so that sooner or later I withdraw completely from PeerBerry. As mentioned above the divestment is mainly (but not only) due to the consolidation of my platforms.
PeerBerry* has introduced a loyalty bonus even if the requirements are very high:
0,5% for 10.000€
0,75% for 25.000€
1% for 40.000€

Bondster* continues to grow nicely. Currently approx. 655€ are invested. As part of the consolidation of my platforms, PeerBerry has been reduced and Bondster* has been increased. As a result the XIRR drops slightly to 11,67% (- 0,18%). I have planned to increase to a total of 1.000€.
The platform is ideally suited for diversification!

The XIRR continues to climb to 11,03% (+0,68%). I'm still happy with NeoFinance, but it's now clear that there will be definitely some defaults. The return calculated by the platform is now 18,31%. There is a deduction of 15% withholding tax (can be reduced to 10% by the way). I now have three default loans that I could sell to NeoFinance which I won't.
NeoFinance* has a 25€ bonus.

The XIRR at Viainvest is 10,46% (+0,26%) and is moving closer to 11%. As a platform for diversification I can clearly recommend Viainvest and I will continue to invest here.
For the start at Viainvest* there is a 10€ bonus. For this only 50€ need to be invested.

Crowdestor* provides every month highlights with interesting and slightly different projects. The financing of a fur farm, which has already filed for bankruptcy, has caused an uproar. Nevertheless, Crowdestor is very confident about recovery. Also in October I invested a little more, but not quite as much as in September. Nevertheless, I now come to 4.770€ investment with an XIRR of now 9,50% (+0,31%).
Why is the XIRR that low? Now often the new projects have a slightly different structure, e.g. that the interests are accumulated and only payed after 6 months and so on.
Why did I increase the investment so much? The reasons for this is, on the one hand, increased trust in the platform and the mentioned consolidation in which I would like to increase the share of crowdlending platforms. If you want to know more about Crowdestor, I recommend my interview. On the other hand, I would like to refer to the blog post by Georg from Crowdlendingrocks.eu. He has a very interesting Q&A with Janis and Gunars from Crowdestor with great insights on his blog.
With this link* you can get 1% on top for 180 days on your investment!

At Viventor* only approx. 130€ are left. So my withdrawal is almost complete. Of course the XIRR increases due to sale to 11,69% (+3,78%) . The money was transferred to Bondster and EvoEstate.

I'm now invested in 26 projects at EstateGuru*. The XIRR is at 9,42% (+0,29%) increased to 1.575€. Also in October I was able to trade a little bit at the secondary market. As part of the consolidation I will continue to increase at EstateGuru.
At EstateGuru* there is 0,5% cashback for 3 months.
Go & Grow
The better product at Bondora* despite a cap of 6,75% is Go & Grow*. I mainly use it for a small part of my cash. Since there are some debits taking place here and there and you have to pay a fee of 1€, the XIRR is slightly lower with 5,92%. However, I do not want to miss the liquidity available here.
5€ are available at Bondora* right after registration. If someone wants to invest a larger sum, just send me a message (I share my bonus).

The problem child in October is definitely Crowdestate*. There are now a total of 1.600€ invested in loans with 13.5-17%. In September it was 1.700€, so I deducted 100€. This could happen more often in the future. The Baltic Forest X project now has very big problems so that payments are stopped until summer 2020. Furthermore, the project can no longer be traded on the secondary market. On the secondary market I was a bit more active in October and so the XIRR also increases to 3,38% (+1,66%). The other projects have paid the interest as planned.

For me the loan portfolio at Bondora* consists only of red loans, I sold all other loans after 4 years of investing. Through the recovery process I hope that something remains. Of course I could sell them with high discount, but I'm not reliant on the ~370€. Therefore, the money stays where it is for the time being.
I can't really recommend Portfolio Pro. If you stop putting in more money, the return drops very quickly into the basement. Although Bondora's* recovery process is one of the best in the p2p industry, there are plenty of alternatives.

1,08% is the XIRR in October at ReInvest24*. Of course the 2% fees per project have a negative influence. The first apartments have been sold at the buy-and-flip project Majaka 54. Round about 490€ are still invested at ReInvest24.
If you want to invest directly through ReInvest24* and not like me via EvoEstate*, the platform offers a nice cashback promotion with 1% cashbackin the first year!

Exporo made the first quarterly distributions. I invested there with 1.000€ and was happy about a 7€ gross dividend. This means that the XIRR is currently at 1,99%. It's possible that one or the other suitable objects will be added. However I think I'll invest more in the REIT direction.
Unfortunately this investment posibility is only for investors from Germany, Austria, France, Hungary, Ireland, Luxembourg and Switzerland. (yet). I am invested in a stock property (so an existing building which is already rented) at Exporo* with 1000€. The expected return is expected at 4,5% and payments come in every quarter. However, I would like to expand the investment in the future.
Exporo* does also offers real estate development projects. Here everybody can invest. Maybe for diversification it's interesting for you.
By the way, Exporo offers you 100€ cashback for your first investment.

1.250€ are invested on Bulkestate*. September was really quiet except the second payment of interest of a project. Therefore XIRR jumps to 0,10%. I want to mention that almost all projects are final. In the event that there are no defaults (which I hope so, of course), the return is expected to be around 15%.
I'm not going to increase my investment in Bulkestate for the time being. Initially, I had considered investing in Bulkestate projects through EvoEstate. But that doesn't work, which is why I leave my investment that way. So what is the reason? You can read about this in the EvoEstate – project originator overview blog post.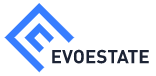 The last platform is now EvoEstate*. In September I still had about 625€ invested on the platform. This has now been almost doubled to 1.215€. The second market announced in the interview and my buy at the secondary market is still responsible for the negative return of now -0,32%. However, I have already received the first interest payments from three projects. I also recently published a blog post in which I take a closer look at all project promoters connected via EvoEstate.
Many more project originators will be added (the project originator overview will then be updated) and in the near future also interesting features such as e.g. margin trading and a new design.
All in all I'm very satisfied with the development of the platform and I think you can still get ready for a lot more :).
EvoEstate* offers you 15€ for a good start on the platform. The bonus will be there after the 1st investment.
---
Outlook & Summary
The share of buy-back p2p platforms was significantly reduced as planned and the crowdlending platforms were increased in return. Overall, the distribution now looks like this:
35,94% (-6,81%) Buy-back P2P
35.64% (+6.87%) Crowdlending
20.67% (+2.15%) Real estate P2B
4,74% (-0,16%) Real P2P
3,02% (-2,04%) 'Short-term' P2P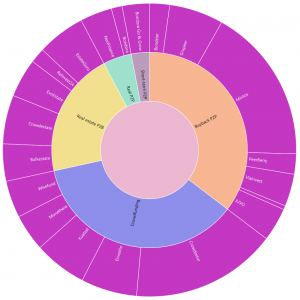 As seen in the XIRR ranking the crowdlending platforms Wisefund*, Monethera*, Kuetzal*, Envestio* are of course at the top. And Crowdestor* will also line up there. A new platform will be added soon. In the coming months I would also like to strengthen the real estate p2b platforms with EstateGuru* and EvoEstate* without completely neglecting the buy-back p2p platforms.
I hope you find my summary interesting. I am always open to constructive criticism and proposals. See you next months!
---
Revolut – My account for p2p and crowdlending
Since I don't want to transfer everything from my regular bank account to the platforms, I was looking for a simpler solution. A few months ago I stumpled upon Revolut.
After being skeptical at first I'm now a big fan of the app. Transactions to the different platforms and also withdrawals are executed very fast. In addition you can with the free Revolut VISA card with max. 200€ cash limit per month at an ATM. And that without additional costs!
In addition Revolut is my faithful travel companion. Since I also work abroad from time to time I also looked for a way to simply exchange currencies. This is easily possible with the Revolut app. Also without fees (up to 6.000€ per month)!
---
About new projects on Twitter and Instagram
On my own behalf, I would like to mention that I also present new projects on Twitter (kaph1016) and Instagram (invest diversified) in which I invest myself. There are also a few insights into how I am invested in other areas. So just follow me :).
portfolio-update-september-2019
*Some links in my posts are affiliate or referral links. That means I get a little bonus. For each of those who use these links, however, there are no costs or other disadvantages. On the contrary, there is usually a start bonus or cashback. So if you use these links, you support my blog and for that I say thank you in advance!