Hi everyone! First of all happy new year! Hopefully everything wie go in the direction we hope. Furthermore I want to thank all blog readers, commentators, partners in discussion in the Facebook groups and followers on Instagram and Twitter. 2019 I met a lot of interesting people, had a lot of exciting discussions and learned a lot for myself. Really and I mean it that way. Thank you!!!
Today I want to share my Portfolio Update for December 2019 and sum up the year. December was…let's say turbulent. There were first impacts for some platforms, stumblingly loan originators, blocked secondary market trading and even a total failure of a platform. All that I want to write about in the following blog post. Let's start!
---
IRR-Ranking
| Platform | IRR (%) | Changes to previous month (%) | Invested (EUR) | Changes to previous month (EUR) |
| --- | --- | --- | --- | --- |
| | 21,90 | - 0,30 | 1245 | 20 |
| | 20,06 | + 0,01 | 500 | 400 |
| | 13,85 | 0 | 80 | 0 |
| | 13,21 | + 0,08 | 5216 | 50 |
| | 12,47 | - 0,44 | 215 | 1078 |
| | 11,88 | + 0,21 | 616 | 24 |
| | 11,82 | + 0,23 | 1066 | 11 |
| | 11,53 | - 0,29 | 1264 | 130 |
| | 10,63 | + 0,01 | 1074 | 9 |
| | 10,04 | - 1,58 | 1048 | 261 |
| | 9,64 | + 0,65 | 6801 | 1.293 |
| | 8,95 | + 0,28 | 1898 | 318 |
| | 5,95 | - 0,28 | 1482 | 104 |
| | 5,68 | -0,22 | 854 | 496 |
| | 3,82 | + 2,20 | 393 | 97 |
| | 1,35 | - 0,26 | 1000 | 0 |
| | 0,97 | + 0,51 | 2.180 | 785 |
| | 0,00 | 0,00 | 700 | 586 |
| | -5,59 | - 2,97 | 335 | 11 |
| Grupeer | 13,22 | + 0,06 | 1808 | 19 |
| Monethera | 20,23 | + 0,01 | 1741 | 500 |
| Envestio | 17,44 | + 0,18 | 1983 | 1 |
| Kuetzal | 18,80 | 0 | 1957 | 0 |
| | 11,05 | | 35446 | 3613 |
---
Platforms
This time I switch the order again and we start with the platforms with the highest IRR. By the way, that means not much more as also the risk is higher. Bear this in mind. I also try to give a short assessment how I continue dealing with this kind of platforms. Meaning if I just leave it as it is, exit it or even increase my investments.

Wisefund is still at the top with an IRR of 21,90%. IRR will settle down to 18-19%. I'm invested with 1.245€ at the platform. For a longer time there was no new project (until yesterday) and one project paid back earlier than expected so approx. 250€ are not invested. Also deposits weren't possible for some weeks. The reason was an adjustment in the company structure. Furthermore several features like faster deposit possiblities were announced. Even if I know more I cannot say names but you know such solutions from Mintos etc.
I had the chance to have a call with Ings Linkevics, fromer COO, now CEO of the Wisefund Finance OÜ and drill him with my questions. The interview back then you can find here.
CONCLUSION: 2020 I will keep investing at Wisefund, but in a moderate way.

As in the previous month Monethera is at the 2nd place with an IRR of 20,23% (+0,01%). My total investment there is 1.741€. And as you can see I've invested in December approx. 400€ in a short-term project with 5 months term.
Another news in December was the announcment of Monethera that they reached an agreement with the Hong Kong based company RICHLY PACIFIC INTERNATIONAL LIMITED. This allows a buy-back of 95% with a total volume of 3 million euro and is only for new project with a buy-back icon. More information you can find here.
Furthermore there are several project which raised question. Monethera reacted fast, but the answers didn't satisfied me completely..
CONCLUSION: I'll check every new project but for now I won't increase my investment and invest the repayments elsewhere.

Next is one of my newly added platforms TFGCrowd*. Here you can find my short review/interview. Meanwhile I'm invested with 500€ and invested in December in 4 more projects. One of it with referral income. IRR is almost the same with 20,06%.
If you want to test the platform you can use my link. I get 20€ as a reward if you invest at least 100€.
CONCLUSION: I'll increase my investment here, give that the projects are reasonable.

And now we come to the total failure. About Kuetzal I've already been writing in my last portfolio update and linked some information. Still we don't know all information but to make it clear Kuetzal is and maybe was from the beginng a total SCAM! Some of the projects are real, unfortunately they had either no contact at all with the platform or asked for funding but have not received money.
After the winter break the new 'CEO' reacted like this.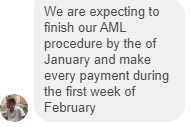 All who asked got this message . Still I don't get what role Maksims Reutovs plays in this SCAM-construct. But in my opinion it's not more than delaying tactics. I'm investet there with 1.957€ and requested a buy-back (for 10% fee) in December. It's very unlikely that I get something of it back. That's why I removed all referral links as the topic became known. Again I can link to Jorgen Wolfs blog post, because it sums up the whole story part of.
CONCLUSION: I think I won't see the money again. At the moment I check together with other investors which legal steps there are to maybe get at least parts of it back.

First of all the numbers of Envestio. IRR increased in December slightly to 17,44% (+0,18%) and I'm invested with 1.985€. Interest are paid on time and withdrawals also work.
Withdrawals? Yes, I started to withdraw the money which came back. The reason is that the platform was sold to Arkadi Ganzin and the installement of the new COO Eduard Ritsmann. The last one is very communicative and obviously that's a positive development. But there is no way the answers he gave could convice me. If you think I'm too negative here's a very positive colored blog post of my Isreali blogger colleague. Nevertheless I continue withdrawing.
CONCLUSION: Withdrawing.

The 80€ from November are still 'invested' at Viventor*. As on Mintos, there is also no news regarding the Aforti loans at Viventor. IRR stayed at 13,85%. If you want to know why I left Viventor*. It's mainly because of the (bad) communication in the Aforti case. It's not about the platform itself, as you can see the IRR is very high.
If you want to invest at Viventor* unfortunately there is only a bonus of 5€ and 1% cashback for 30, 60 and 90 days for me as publisher.
CONCLUSION: Only 80€ left and my investment will hopefully end soon.

Let's go on with better news. I'm invested with 1.809€ at Grupeer and the IRR is now at 13,22% (+0,09%). The fresh originator rating you can find here. In December two new loan originators joines the platform, also a third one in January. Looking good so far and I hope the development of Grupeer will go on in 2020 with the same pace.
CONCLUSION: The high-yielding loans are very interesting and for now everythin works like it should. I can imagine that I increase my investment here in 2020.

Again slightly behind Grupeer you can find the top dog Mintos*. IRR increased to 13,21% (+0,07%) with an investment of 5.216€. After the bad news in November, December looked way better. The interest level increase a little bit and there were 14% loans available on the primary market. As every month some new loan originators joined Mintos, change their company structure or offered loans from new countries. I can only recommend to follow the official Mintos blog for changes and also include the lender ratings from ExploreP2P in the selection of your loan originators.
If you want to invest on Mintos* there is a 1% cashback on your average investment. It's calculated after 30, 60 und 90 days. I receive 5€ + 1%.
CONCLUSION: 2020 I will continue investing on Mintos.

After the early repayment of a big project in November Bulkestate* still has an IRR of 12,47%. At the moment approx. 215€ are invested.
Unfortunately there is no bonus or cashback for new investors. I'll receive 2% cashback for 120 days if you use my link.
CONCLUSION: Hold, until I gave a thought to it.

PeerBerry* has now an IRR of 11,88% and overtake IUVO. A while ago I started to withdraw the repayments, which is very fast by the way. It will go on for a while because of the long-term loans.
PeerBerry* introduced a loyality bonus, but with high requirements
0,5% for 10.000€
0,75% for 25.000€
1% for 40.000€
If you use my PeerBerry* link, I'll receive 5€ + 1% from investments for 60 days.
CONCLUSION: I continue withrawing and at some point the investment will end.

In December NeoFinance* IRR increased again to now 11,82% (+0,23%). Slowly we come to the area where it should be. I'm satisfied with NeoFinance* but noticed that there are more red loans. For now I don't count those as defaults, because there are repayments from time to time. In the following screenshot I compared November and December.
The platform calculated IRR is 18,45%.
At NeoFinance* there is bonus of 25€. If you use my link I get 5€and 2% cashback for 2 months as a reward.
CONCLUSION: For now I won't invest fresh money, because I want to see how NeoFinance delevopes over a longer period of time.
IUVO* is now at 11,53% (-0,29%) with an investment of 1.264€. IUVO* or the loan originators don't pay interest on late loans. Therefore, there is a difference between the IRR and the return displayed in the dashboard (14,28%). Because of fresh money and temporarily lack of new loands IRR decreased a little bit. By the way the platform cracked the 100 million in volume.
For IUVO* there are two different offers. For the first you can contact me because unfortunately it has to be done manually. You get up to 90€ for the start on the platform. 30€ are available for an investment of 1.000€, another 60€ for 2.500€.
With the 2nd offer (click on the banner) I would like to share my bonus of 200€ if you invest at least 2.500€ within 30 days and give away 90€. So if you're interested just send me a short message.
CONCLUSION: My plan in 2020 is to increase the investment slightly, because the platform delivers without problems exactly what I expect.

Almost the same IRR for Viainvest* in December with 10,63%. And so the platform overtook Bondster. As a platform for diversification I can clearly recommend Viainvest and I will continue to invest here. Especially because you cannot find that much Swedish loans. In November Viainvest* introduced a fresh design.
For the start at Viainvest* there is a 15€ bonus. For this only 50€ need to be invested. I'm also rewarded with 15€ if you are register with my link.
CONCLUSION: Moderate increase is planned!

I transfered 213€ in December to Bondster* and now 1.051€ are invested. IRR fell to 10,04% (-1,58 ), which is because of the fresh money. Bondster is an excellent alternative because it offers a variety of loans up to 14% from at the moment 12 loan originators. Some of the are also known from Mintos or Grupeer.
Similar to Mintos there is a 1% cashback after 30, 60 and 90 days at Bondster*. I receive 1% aswell.
CONCLUSION: I'm planning to increase it slightly aswell. I like Bondster!

1.293€ I've invested on Crowdestor* in December and the total investment is now 6.801€! IRR increased to 9,64% (+0,65%) due to a lot of interest payments. The average interest rate for my projects shown in the dasboard is approx. 17%.
I dont' invest in every project and fokus more on the high-yield short-term projects. In December (and also Janary) I invested in the following projects:
With my Link* there is 1% on top for 180 Tage on your investment! I'm rewared with 1% too.
CONCLUSION: Favorite platform, said that before. Knowing the risks, which we no see better and also feel it, I plan to increase my investment in 2020.
I invested 303€ at EstateGuru* and in total 1.898€ are invested in 32 projects. IRR increase again slightly to 8,95%. (+0,28%).
At EstateGuru* there is a 0,5% cashback for 3 months. I also receive the cashback and in addition 5€.
CONCLUSION: My investment at EstateGuru will be increased because the part of P2B (real estate) in my portfolio is still to low.

In December I continued withdrawing money at Crowdestate* and so there are 1.482€ (-104€) invested. I didn't trade at the secondary market and the IRR is therefore now at 5,95% (-0,28%). As I mentioned in the last portfolio update the payments for the project Baltic Forest X were stopped until summer 2020. Also you cannot trade the project on the secondary market anymore. Also some other projects have problems. Seems like a default will hit me.
Furthermore Crowdestate will withhold tax for Italian projects.
Unfortunately there is no referral link with cashback which I could forward to you. If you use my link*, I receive up to 17€ + 0,5% Cashback for 60 days.
CONCLUSION: Hold (because of long-term projects) and withdrawal of the repayments.
Go & Grow
The better product at Bondora* despite a cap of 6,75% is Go & Grow*. I mainly use it for a small part of my cash and will also use it for my side hustle and savings for insurence payments. Because of the withdrawals from time to time and the fee of 1€ IRR is at 5,68%. However, I do not want to miss the liquidity available here. In total 854€ are invested.
5€ are available for you at Bondora* right after registration. If someone wants to invest a larger amount, just send me a message because I get 5% of your investments and I share my bonus.
CONCLUSION: Without question I will increase my investment.

IRR is at 3,82% in December at ReInvest24*. Strong increase! One project was paid back and the available money I transfered to EvoEstate. Now 393€ are left. I really like the business model of ReInvest24*, although the funding of projects takes much longer than on other platforms. To lower the effort I will invest over EvoEstate in ReInvest24* projects.
If someone wants to invest directly over ReInvest24* there is a 1% cashback (for me aswell) in the first year.
CONCLUSION: Hold and withdraw repayments.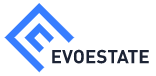 From month to month I like EvoEstate more. Hence I transfered another 753€ in December and now I'm invested with 2.180€ in 35 projects. Because interests are coming more regularly IRR is now at 0,97% (+0,51%). A few weeks ago I published a blog post about the project originators connected to EvoEstate. A good read is also the investors update Q4 from EvoEstate and the interview with CEO Gustas Germanvicius in the Lithuanian TV (English subs are available).
Meanwhile there are two different offers from EvoEstate:
CONCLUSION: I plan to increase my investment on EvoEstate heavily and started with that January already.

My second new platform in November was Boldyield*. Meanwhile the maritime transportation project with 12% is live and I'm invested with 500€. In total 700€ are invested on the platform. More information about Boldyield* you get in my interview. By the way all three available projects are still open for investments. On top interests are paid monthly from now on!
If your register through my link you receive a cashack of 0,5% for 6 months. I'm rewarded with 1%.
CONCLUSION: I really like the platform and the team. Also the projects are very interesting. Without question I will increase my investment on Boldyield*.

Unfortunately this investment posibility is only for investors from Germany, Austria, France, Hungary, Ireland, Luxembourg and Switzerland (yet). I'm invested in a stock property (an existing building which is already rented) at Exporo* with 1.000€. The expected return is 4,5% and payments come in every quarter.
The next payment should come end of the year. 1.000€ are still invested and IRR is currently at 1,35%. The next payment will come soon.
Exporo* does also offers real estate development projects. Here everybody can invest. Maybe for diversification it's interesting for you. There is also a chance that investments from Exporo are available on EvoEstate too.
By the way, Exporo* offers you 100€ as promo code (use ID 157135 during registration) for your first investment directly after registration. If you invest I receive also a 100€ promo code.
CONCLUSION: I'll check every new project, but so far there was not the right one for me.

For me the loan portfolio at Bondora* consists only of red loans, I sold all other loans after 4 years of investing. Through the recovery process I hope that something remains. Of course I could sell them with high discount, but I'm not reliant on the ~335€. Therefore, the money stays where it is for the time being. If you want to know why IRR is negative I count the not payed money as interest charge within Portfolio Performance.
I can't really recommend Portfolio Pro. If you stop putting in more money, the return drops very quickly into the basement. Although Bondora's* recovery process is one of the best in the p2p industry, there are plenty of alternatives.
CONCLUSION: I have to wait and see if something comes back through recovery.
---
Affiliate/referral income
As I mentioned that I'll be more transparent regarding income of affiliate sources. You have seen that I write down what I get in return if you using my links. Furthermore I will update you here about my affiliate income in December. I haven't received it yet, normally I get it in the following months. But in total it's 321,98€ distributed over 9 platforms. But minus Kuetzal, because the won't pay for sure.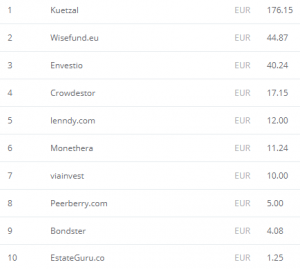 Referral income I received from on the following platforms:
Boldyield: 5,61€
Bondora Go & Grow: 250€
EvoEstate: 30€
IUVO: 120€
TFGCrowd: 120€
---
Outlook 2020 & summary
PUH again! The great shadow of the Kuetzal failure lies over everything. Envestio doesn't exactly contribute to more sun either. It will definitely be an interesting 2020.
P2P / crowdlending will continue to play a role and I will specifically increase the investment. However, I will do a lot more research than before. This means that when I inform about new projects on social media, I at least believe that risk and return are in balance. Should you blindly follow my personal opinion? Of course not! I can't say it enough, please do your own due diligence!
Here is my distribution between the individual P2P / crowdlending classes:
32,35% (-3,59%) P2P (Buy-back)
40,50% (+0,16%) Crowdlending
20,49% (+2,76%) P2B (Real estate)
4,07% (-0,47%) P2P
2,59% (+0,76%) P2P (Short-term)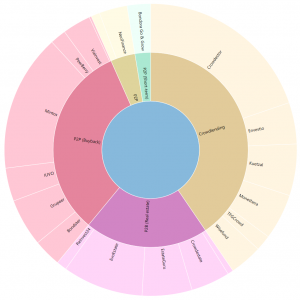 I hope you find my summary interesting. I'm always open to constructive criticism and proposals. See you in February for the next portfolio update!
---
Revolut -My account for p2p and crowdlending
Since I don't want to transfer everything from my regular bank account to the platforms, I was looking for a simpler solution. A few months ago I stumpled upon Revolut. Since then I use the app for all financial transactions in the area of p2p/crowdlending and also in business context as freelancer with Revolut for Business*
After being skeptical at first I'm now a big fan of the app. The execution of transactions to the different platforms and also withdrawals is very fast. In addition you can with the free Revolut VISA card with max. 200€ cash limit per month at an ATM. And that without additional costs!
In addition Revolut is my faithful travel companion. Since I also work abroad from time to time I also looked for a way to simply exchange currencies. This is easily possible with the Revolut app. Also without fees (up to 6.000€ per month)!
---
About new projects on Twitter, Instagram and Facebook
On my own behalf, I would like to mention that I also present new projects on Twitter (kaph1016) and Instagram (invest diversified) in which I invest myself. Also on Facebook I have a page. There are also a few insights into how I invest in other areas. So just follow me :).
*Some links in my posts are affiliate or referral links. That means I get a little bonus. For each of those who use these links, however, there are no costs or other disadvantages. On the contrary, there is usually a start bonus or cashback. So if you use these links, you support my blog and for that I say thank you in advance!