Welcome back!
portfolio-update-august-2019
Let's continue with the portfolio update for August 2019. In August a lot of (re-)investments were made and two new platforms were added. But I'm also withdrawing my money on two other platforms. In total I have reinvested almost 2.100€ and the P2P portfolio has clearly broken my magic limit of 25.000€! Let's take a closer look at the platforms.
XIRR Table
| Platform | XIRR | Change to previous month | Invested |
| --- | --- | --- | --- |
| | 12,42% | + 0,41% | 6400€ |
| | 12,30% | + 3,22% | 450€ |
| | 12,28% | + 0,28% | 1075€ |
| | 11,13% | - 0,02% | 1270€ |
| | 10,85% | - 1,98% | 2500€ |
| | 10,79% | + 10,79% | 1000€ |
| | 9,83% | + 0,49% | 1035€ |
| | 9,19% | + 1,39% | 1020€ |
| | 8,08% | - 2,37% | 370€ |
| | 6,93% | + 0,29% | 1040€ |
| | 6,17% | + 0,20% | 1315€ |
| | 6,08% | | 870€ |
| | 2,12% | + 2,12% | 1515€ |
| | 0,00% | | 1215€ |
| | 0,00% | | 1000€ |
| | 0,00% | | 215€ |
| | -2,64% | + 1,46% | 600€ |
| Grupeer | 12,50% | + 0,37% | 1240€ |
| Monethera | 21,37% | + 21,37% | 800€ |
| Envestio | 15,22% | + 1,85% | 1350€ |
| Kuetzal | 18,11% | - 0,40% | 1325€ |
Monethera
Since I am a bit more risk-taking on the road here and there, I also looked at Monethera in June and invested a small amount of 275€, but just before writing the last portfolio update I added another 250€. And also just before the publication of this blog post there was a new project and 250€ have been transferred to Monethera. The first interest rates have already been paid. This brings me to a amazing 21,37% XIRR, which is very remarkable due to the short time I'm invested. At the same time, this means 1st place in the XIRR ranking. In the interview with CEO Andis Tauber you get more information about Monethera.
Kuetzal
At Kuetzal another 200€ were added and 1325€ are now invested there. Furthermore, all payments are made on time. However, we still have to wait and see what the situation will be in a year. Kuetzal can't defent the 1st place in the XIRR ranking and now comes to 18,11% (-0.40% compared to the previous month).
Envestio
Envestio grew strong and now stands at 15,22% (+1,85% compared to July). As in the last portfolio update, the return is slowly approaching the expected 16%. The 160€ from July has now also been invested. So now I'm invested in 8 projects. By the way, the new Auto-Invest invests usually before the email for new projects arrives. So far, everything at Enevstio is running as planned.
Grupeer
New 4st place with 12,50% (+0,37% compared to the previous month) goes to Grupeer . I really have to do little to nothing here, because everything is reinvested automatically. In addition, many 13% loans are available, which makes the whole platform very attractive. In addition, Grupeer often has 1-2% cashback for certain loans.
Mintos
Mintos (6400€) runs smoothly. In July it was 12,01%, now 12,42%. The weighted interest rate of my loans at Mintos is 13,40%, so XIRR will still increase a bit.
Mintos also offers you a start bonus.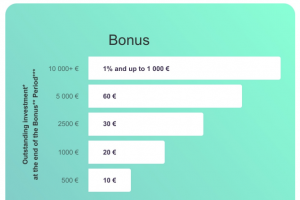 Bondster
Bondster has made a huge jump. On the Czech platform there are already 6 loan originators and you can achieve a fairly good diversification. In addition, many 13% loans are offered. The initial investment of 400€ was increased by 50€ in July, so 450€ are invested. In the near future, a lot of the returns from PeerBerry will be transferred to Bondster.
By the way, the minimum investment for loans is only 5€ compared to many other platforms. In the last portfolio update XIRR was 9,08% . This time we are at 12,30% (+ 3,22%) and so Bondster jumps to the 6th place behind Mintos.
At Bondster you get a start bonus of 10€ for an investment of 1000€ in the first 30 days.
IUVO
Just behind the two, IUVO* is back with a XIRR of 12,28% at 1075€ (+0,28 compared to July). The platform itself now shows 14,24% in the dashboard. The difference here is due to the fact that IUVO or the loan originators do not pay interest on delayed payments. However IUVO* runs very smoothly.
By the way, IUVO* offers you up to 90€ for the start on the platform. If you're interested, just send me a short message.
PeerBerry
11,13% (-0,02%) is the XIRR for PeerBerry. The auto invest is set at 12% and the platform itself shows 12,17%. I used to have some 11% loans in my portfolio, so I think that explains the difference. PeerBerry is doing well, but I'm very annoyed by the problem with incorrect numbers in the dashboard and the broken bank statement. Since I have repeatedly expressed my displeasure via mail to the support and received the same response as a few months ago, I'll pull the rip cord at PeerBerry. Auto invest is stopped, all repayments of short-term loans will flow to Bondster. The long-term loans will follow later.
Crowdestor
Unfortunately, my favorite platform Crowdestor has dropped a bit in the XIRR ranking and now comes to 10,85% (-1,98%). What's the reason? A lot of the 2.100€ I invested was transferred to Crowdestor and there are now more projects that pay interest only once a quarter or every 6 months instead of monthly payment. My investment is now close to 2.500€. An auto invest and a second market will (hopefullye) be added soon at Crowdestor!
With this link you can get 1% on top on your investment!
Wisefund
One of the new platforms I added is Wisefund. I have already presented the platform in an interview with Ingus Linkevics. Short summary, very high return for relatively short-term business and/or development loans. The projects that are currently available for investment range from 17% to 19% with a 3-9 month term.
In total I invested almost 330€ at Wisefund, but another 670€ a few days ago for upcoming projects. With interest already paid out, XIRR is already 10,79% after just one month!
Wisefund offers you 0,5% cashback on your investments within the first 270 days.
Viainvest
My Twino-Replacement Viainvest is probably the most supple and has a XIRR of 9,83% (+0,49%) which is very good for this short time, especially as there are only 11% loans available on the platform.
There is a 10€ start bonus at Viainvest. For this only 50€ have to be invested.
NeoFinance
As a replacement for Bondora Portfolio Pro, I wanted to have another 'real' p2p platform in my portfolio. I found it in NeoFinance in March and I'm there with ~1.000€. XIRR recovers after my sale last month and comes to 9,19% (+1,39%). I am still very satisfied with NeoFinance, but a real conclusion can only be drawn here when some time has passed. The return calculated by the platform is now 18,30%! And this despite the deduction of 15% withholding tax (can be reduced to 10% by the way).
At NeoFinance there is a €10 start bonus for an investment of at least 150€ within the first 90 days.
Bondora
For me the loan portfolio at Bondora consists only of red loans, I sold all other loans after 4 years of investing. Through the recovery process I hope that something remains. Of course I could sell them with high discount, but I'm not reliant on the ~370€. Therefore, the money stays where it is for the time being.
I can't really recommend Portfolio Pro. If you stop putting in more money, the return drops very quickly into the basement. Although Bondora's recovery process is one of the best in the p2p industry, there are plenty of alternatives.
Viventor
Viventor hardly moves. Here I had invested just over 1.000€. My loans range somewhere between 12% and 16%. At 6,93% (+0,29% compared to the previous month) XIRR is still really poor. That' why I've made a decision and so I will withdraw all my money from Viventor. Meanwhile, 80% of loans are also delayed. I was somehow affected by the Aforti 'technical' problems, but it is only a handful of loans. However, I didn't like the way in which Viventor communicates on this subject at all. So I'm going to sell my loans on the secondary market and then decide where the money goes. (keyword: platform consolidation).
EstateGuru
Now let's move on to EstateGuru and the 20 projects I'm invested in. XIRR currently stands at 6,17% (+0,20%). That's ok, because many of the projects are final or pay only once a quarter. I'm invested at EstateGuru with 1315€. There are (yet) no defaults, but two late loans. So far I can highly recommend EstateGuru in the real estate sector and I will also expand my investment there.
At EstateGuru, there is 0,5% cashback on your investment in the first 3 months.
Bondora Go & Grow
The better product at Bondora despite a cap of 6,75% is Go & Grow. I mainly use it for a small part of my cash. Since there are some debits taking place here and there and you have to pay a fee of 1€, the XIRR is slightly lower with 6,08%. However, I do not want to miss the liquidity available here. Especially in the current phase of the stock market, I am trying to build up somewhat larger cash reserves. In a separate blog post, I will explain my strategy regarding the stocks if someone is interested.
5€ are available at Bondora right after registration. If someone wants to invest a larger sum, just send me a message (I share my bonus).
EvoEstate
I was also able to do an interview with EvoEstate, an aggregator platform for real estate loans. Interest rates are not as high as on other platforms, of course, but that is not what matters. EvoEstate is a tool for even more diversification. In addition, I prevent myself from registering on other platforms :). I am invested in projects at EvoEstate with 215€. Just take a look at the platform, it's worth it!
Bulkestate
1250€ are invested on Bulkestate. I have invested in two new projects. This is easily possible due to the 50€ minimum investment. XIRR is still 0,00% as all projects are final. In the event that there are no defaults (which I hope so, of course), the return is expected to be around 15%. I will also increase my investment at Bulkestate.
Exporo
Unfortunately this investment posibility is only for investors from Germany, Austria, France, Hungary, Ireland, Luxembourg and Switzerland. (yet). I am invested in a stock property (so an existing building which is already rented) at Exporo with 1000€. The expected return is expected at 4,5% and payments come in every quarter. However, I would like to expand the investment in the future.
Exporo does also offers real estate development projects. Here everybody can invest. Maybe for diversification it's interesting for you.
By the way, Exporo offers you 100€ cashback for your first investment.
Crowdestate
My third-largest position with 1.500€ I invested at Crowdestate with a dashboard return of 15,25%. 5 out of 6 projects have already paid interest, one is delayed. 2,12% XIRR it's in August. Also Crowdestate develops slowly, as some projects are final or pay interest only per quarter. Nevertheless, due to the track record and the previous projects, I am very optimistic.
ReInvest24
For ReInvest24 the 2% fees per project have a negative influence. The first dividends have already arrived and there is also a new project, which looks very interesting (have a look
). Almost 600€ are invested here.
Outlook & Summary
Crowdlending platforms continue to dominate. Led by Monethera and Kuetzal and Envestio on 3rd position. Crowdestor falls short a bit, but that's logical and will change in the next few months. Grupeer and IUVO* continue to develop magnificently. Mintos aswell. Let's see how interest rate normalization is reflected in the XIRR ranking in September. My newcomer platform Wisefund also had a great start.
For Viventor time is up. Where the invested capital goes, I still have to think about. I reduced my investments at Peerberry and transferred the funds to Bondster.
See you at the next portfolio update!
---
Revolut – My account for p2p and crowdlending
Since I don't want to transfer everything from my regular bank account to the platforms, I was looking for a simpler solution. A few months ago I stumpled upon Revolut.
After being skeptical at first I'm now a big fan of the app. Transactions to the different platforms and also withdrawals are executed very fast. In addition you can with the free Revolut VISA card with max. 200€ cash limit per month at an ATM. And that without additional costs!
In addition Revolut is my faithful travel companion. Since I also work abroad from time to time I also looked for a way to simply exchange currencies. This is easily possible with the Revolut app. Also without fees (up to 6.000€ per month)!
---
About new projects on Twitter and Instagram
On my own behalf, I would like to mention that I also present new projects on Twitter and Instagram, in which I invest myself. So just follow me :).