Hello again! In today's blog post "Interview and Review with Reinvest24" I would like to talk a bit about the Estonian P2P platform. I've been invested there for 3 years now, and a lot has happened in that time. I also asked CEO Tanel Orro for a short interview. Have fun reading!
---
Reinvest24
Review
I have been invested in Reinvest24 since February 2019. In my P2P portfolio, the Estonian platform is therefore one of the oldest. At that time, my investment case was to increase my cash flow, which besides P2P interest mainly consists of dividends, through the rental projects that R24 offers. This type of project is now somewhat rare, the reasons for which will be discussed in the interview. Nevertheless, all projects have been running excellently so far, except for minor delays. Therefore, I am more than satisfied (as of today).
What is still missing, in my opinion, is actually the first failure of a project. Sounds silly, doesn't it? I am convinced that you can only really assess a platform when it is clear how failures are handled. A lot of things come into play here. How are these failures communicated? What does the recovery process look like and is it transparent? How long does the recovery process take? These are all questions that currently only have theoretical answers. But I am quite sure that Reinvest24 will master this baptism of fire, if it comes, with flying colors!
Platform
Reinvest24 has developed as a platform over the last years. One has entered many markets outside the Baltics and now also offers projects from Moldova, Spain or Switzerland. Investors also have more choice in terms of project type. One or two new features have also been added. The secondary market, for example, although this took a long time :).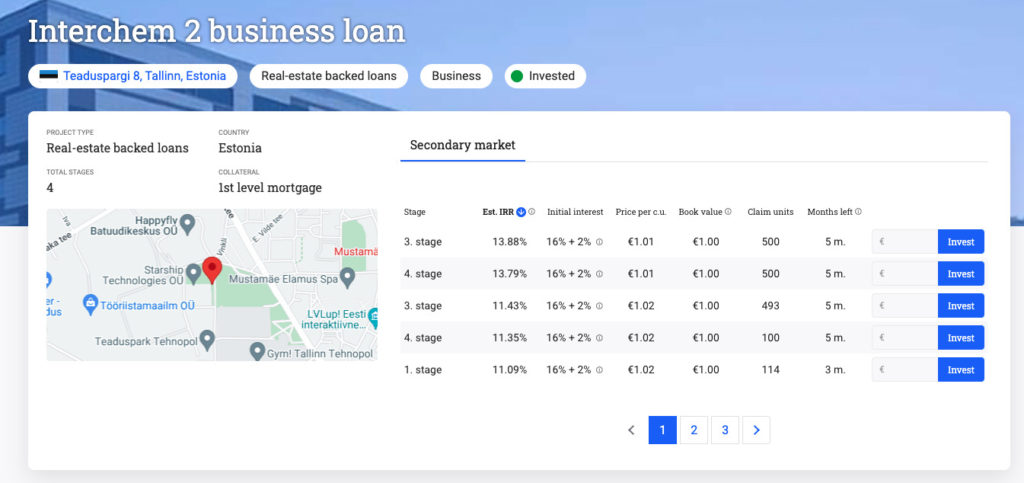 Two new features were added recently, or at least I only noticed them now. Within a project, there is now an overview of the open secondary market offers for this project (for all levels). So, you can easily see if discounts are available and invest directly.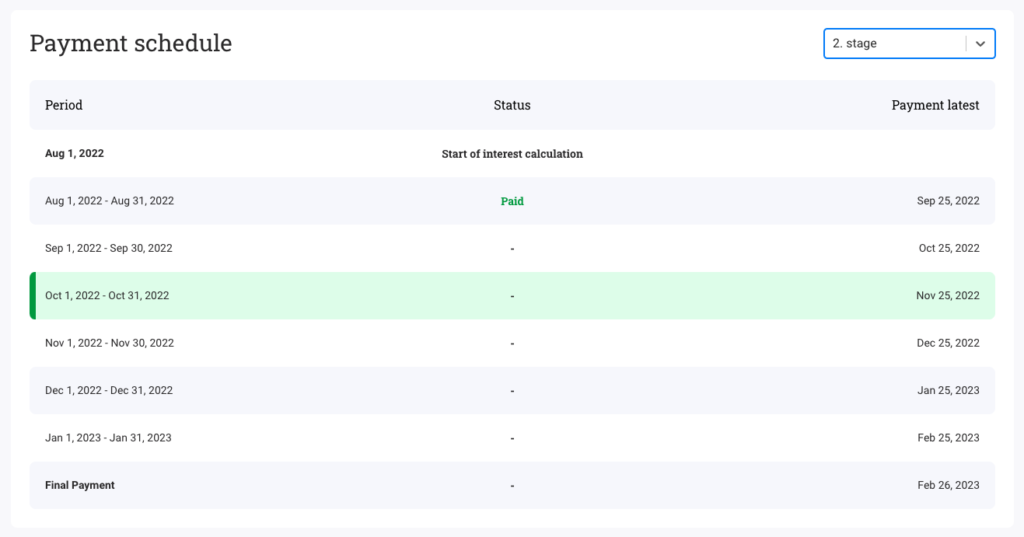 In addition, there is now also a "Payment schedule" available, in which you can see if there are any delays in repayments. Personally, this has always looked a little to me. In terms of transparency, an important feature!
Current projects
At the moment, there are three projects available for investment. And that from Estonia, Moldova and Spain. So, you can start diversifying directly from 100 EUR!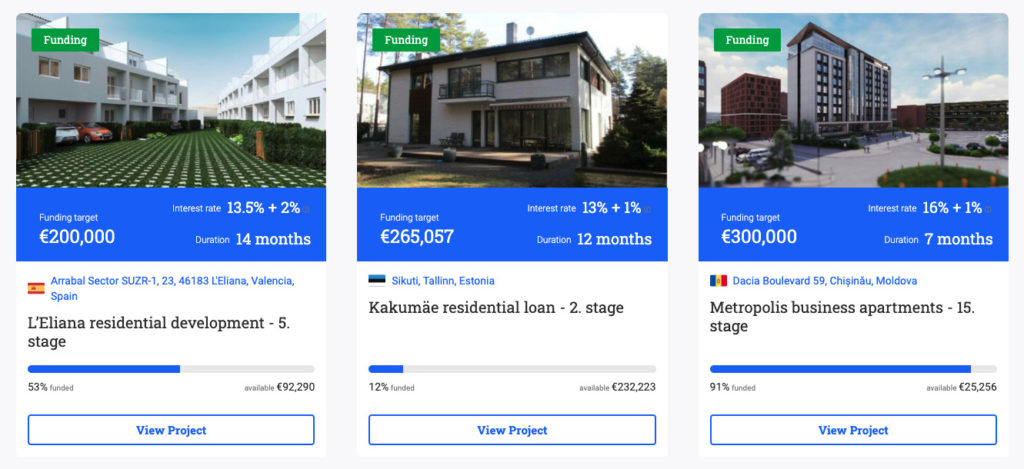 ---
Interview
Welcome Tanel to a short interview. For the start, please give us an introduction to the platform Reinvest24.
Reinvest24 is a real estate investing platform from Estonia that launched in 2018 and has been
offering attractive fractional investment opportunities from residential to commercial properties.
To date, we are approaching our investment portfolio to reach 30m EUR and investors
community to reach 20000 investors, while still maintaining 0% default rate.
How can an investor make profit on the platform?
Investors can make profits in different ways:

The main, by investing our projects, available on primary market
Once receiving the first monthly interests it is important to reinvest it, e.g. on our secondary
market, so you will invest with compound investing strategy and could earn even more
By selling or buying on our secondary market
By inviting friends to invest on our platform. Moreover, by sharing your referral link with
your friends. They will get a 10 EUR bonus, and you will earn 1% from their investments during
the whole year
By investing more in projects, as every project gives additional bonuses if the investor
would like to invest more
In addition to opportunities, there are always risks, especially with high returns. What are the potential risks with Reinvest24?
Successful investing is about managing risk, not avoiding it. And Reinvest24 is not an exception, so I
would say that theoretically we can be exposed to the risks that any other business might have, taking
into account the times we are living. The most important is how those risk has been managed.
How does Reinvest24 minimize those risks, and what can investors do to minimize risks?
Before putting any project on our platform, it goes through a strict due-diligence process. Apart from that, all of our projects are secured with collateral guarantee. It means that if the property goes into default, the collateral will be sold and investments returned to our investors. Moreover, we use SPV (Special Purpose Vehicle) companies, which manages the project. This way we can assure, that in case any project faces troubles, the risks are not transmitted to the other projects.

Also, we have different types of projects as well as geographies of it. For example, if investor feels uncomfortable to invest in Moldova during current geopolitical situation, he can invest in Spain or in Baltics.
As investor, I can diversify my projects over countries. You've already named one country (Moldova), which sounds somehow risky for new investors, due to its proximity to Ukraine and as a potential target of Russia. Nonetheless, the projects are very successful there. How do you secure investments in a worst-case scenario?
As mentioned above, we have quite strict procedures implemented, and Moldova is not an exception. So, if something bad will happen to the project, the collateral of it will be sold and funds are returned.
Older investors choose the platform, especially because of the rental projects. R24 somehow shifted the focus away from such project types. Why? And will we see such projects in the future again?
Because we noticed that our investors like our other types of investments (with fixed interest rates) more. Also, the current market situation is not favoring to buy rental projects, as the prices has grown a lot since we started. However, we are still looking for properties to buy, but taking into account that our strategy was and will always be to have quality over quantity, this pool of projects to choose from is very small.
How do you find new projects and can you describe the process until they end up on the website?
The real estate property comes to the Reinvest24 platform in different ways. Our team is constantly monitoring the market for projects with good potential, we are working with many real estate agencies, as well as the borrower might come to us directly. After that, Reinvest24 performs thorough due diligence on the borrower or the project and signs
preliminary agreements. In this blog article, we shed more light on how we choose the right investment objects.
Maybe you can tell us a bit about yourself. How did you come to Reinvest24?
Before joining Reinvest24, my main workplace was in LHV Bank in Estonia. I was working as Estonian Experienced Chief Executive Officer with a demonstrated history of working in the financial services industry.
To conclude the interview, could you explain Reinvest24's relationship with KIRSAN?
KIRSAN is our main Borrower and for some of the project we use their expertise in the construction field to implement the development works of our own projects. Apart from that, KIRSAN is Reinvest24 shareholder for 18%.
---
Bonus
If you want to invest on ReInvest24*, there is a currently a great bonus campaign for new investors on investments of the first 30 days, which runs until 30.11.2022! I receive 1% cashback, as before.
500 – 1.999 EUR investment = 25 EUR bonus
2.000 – 9.999 EUR investment = 50 EUR bonus
10.000 – 99.999 EUR investment = 200 EUR bonus
From 100.000 EUR investment = 1.000 EUR bonus
---
Social Media
On my own behalf, I would like to mention that I also present new projects on Twitter (kaph1016) and Instagram (investdiversified) in which I invest myself. Also, on Facebook I have a page. There are also a few insights into how I invest in other areas. So just follow me :). *Some links in my posts are affiliate or referral links. That means I get a little bonus. For each of those who use these links, however, there are no costs or other disadvantages. On the contrary, there is usually a start bonus or cashback. So if you use these links, you support my blog and for that I say thank you in advance!