Hello, dear P2P friends! In today's blog post, I would like to introduce you to a new P2P platform after a long time. We are talking about hive5! In the context of "Interview and review with hive5" I took a closer look at the platform and asked CEO Ričardas Vandzinskas some questions. Enjoy reading!
---
As a small transparency note in advance: I was able to test the hive5 extensively in advance. This is a sponsored article, but I have set the conditions.
hive5
Review
I was already allowed to put the platform through its paces with a test budget. Some things should be optimized, which I will also forward directly to hive5.
Platform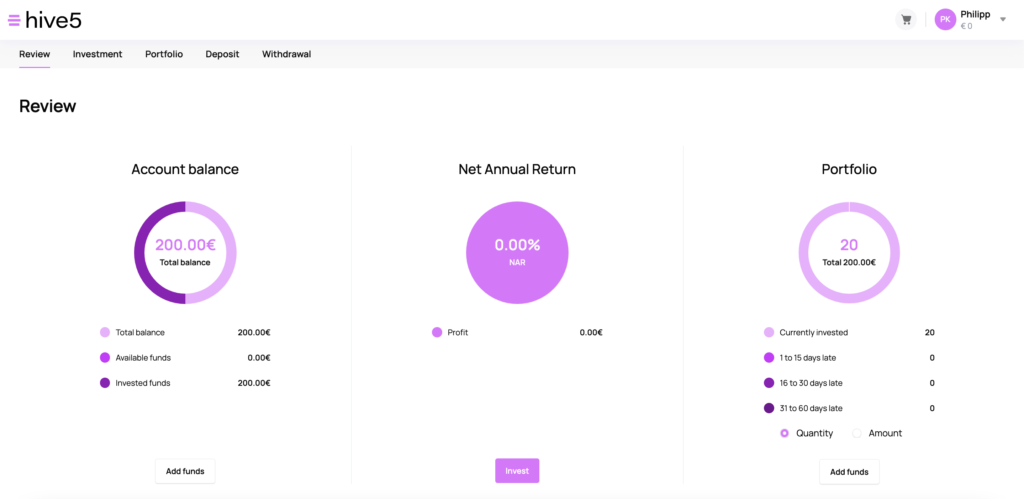 In terms of functionality, hive5 is still very spartan, but the essential functions are provided. The dashboard shows the invested or free funds, the return in the form of the "Net Annual Return" as well as the number and status of the invested loans.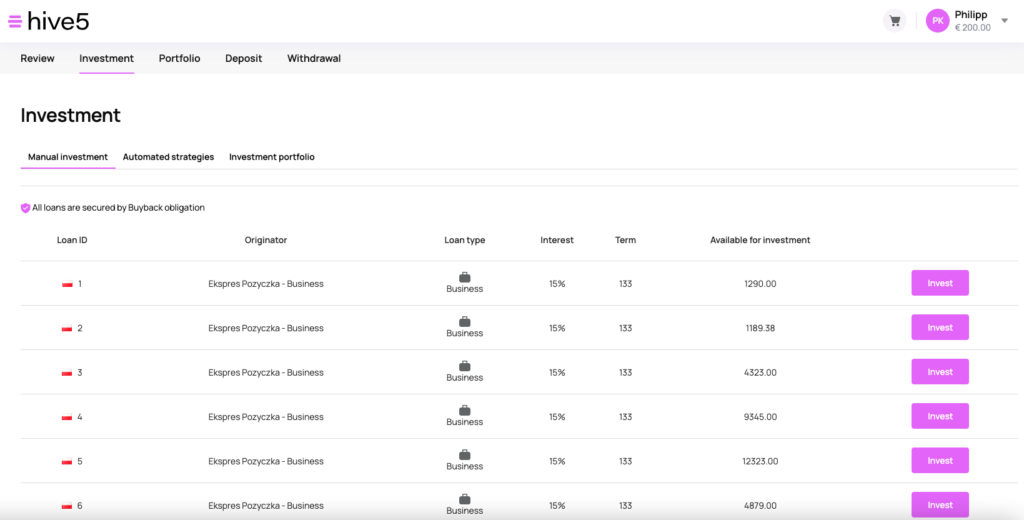 On the investment page you get an overview of offered loans, and you can invest manually. "Term" is given in days, which must also be taken into account when auto-investing. In the interview you can learn a bit more about the loan provider Ekspres Pozyczka.
If you click on a loan on the investment page, you get the most important information such as term, etc. Currently, in addition to pure consumer loans, business loans are also offered. For the latter, there is also information on the purpose of the loan. More about this in the interview.

There is also an auto-invest. Without this, of course, we could not call P2P a "passive" investment (and in my opinion it is not *cough*). Here, the selection options are also spartan, but there is currently only one loan provider from one country.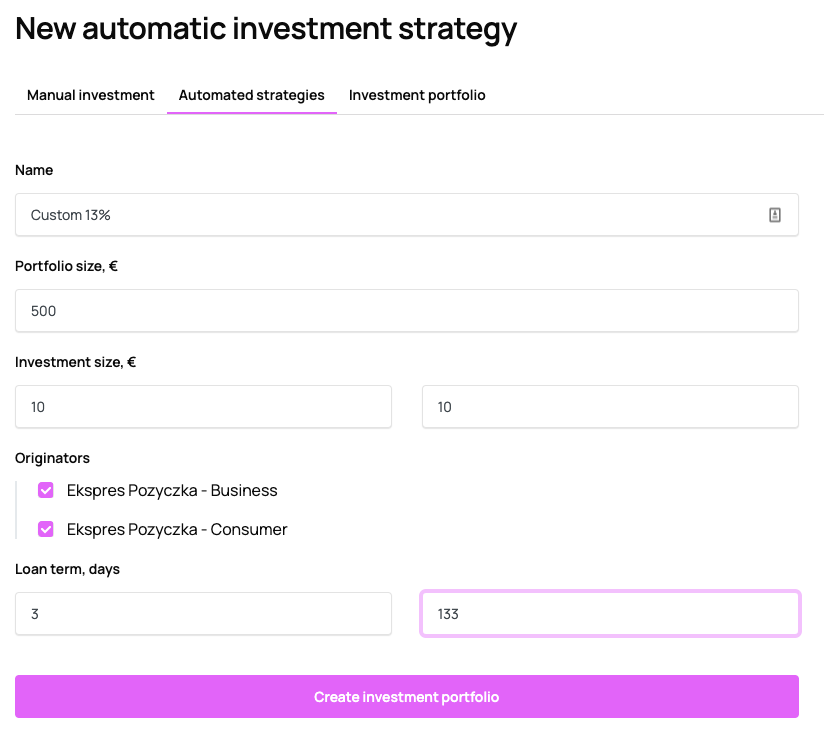 ---
Interview
Welcome Ricardas to this interview. Let's introduce your platform, hive5. Why (and when) did you find a new P2P platform, how does it work, and how can investors make a profit with the platform?
Hive5 is a newly launched platform by Hive finance Group that offers European retail investors investments in group-owned loan originators. The first loan originator on the platform is Ekspres Pozyczka which facilitates short-term payday loans in Poland and business loans directly to the loan originator itself. By investing in hive5, you can earn up to 15% ROI.

About my background, I started my career at PriceWaterhouseCoopers – a leading global financial advisory firm. Over the past 15 years, I have worked with medium to large multinational corporations to aim for aggressive geographic expansion and international growth. In parallel, I took part in the corporate governance of public and private corporations by holding my duties on supervisory boards and independent audit committees focusing on corporate risk management.

My key role was a relentless search for new funding sources to constantly expand our M&A investments portfolio and bring solid ROIs to our investors upon the exit. While dealing with classic offline investment bankers, risk capital funds, mezzanines, and wealthy investors, in parallel, I was observing a big bang in an online, fully digitalized lending society. In contrast to classical offline, digital online lending was about the speed, simplicity and great window opportunities for those individuals and businesses which would usually stay out of the scope of conservative banking. This was when I started planning hive finance.

My business partner Andrius Rupšys I met at Ruptela. His own ambitious and fast-growing global tech company with a presence on five continents and more than 250 employees worldwide. Our clients were complaining that getting a business loan from a bank is usually very complicated. Many projects never see their daylight. This is where our core expertise in finance and tech finally collided, bringing up to the world hive5. A platform to service a growing need for alternative financing tools in the faster-than-ever evolving digital lending world.
The P2P industry is a crowded place. What differentiates hive5 from its competitors?
Know-how

Firstly, we know how business is done. Let the facts speak for themselves. Andrius Rupšys and I are both EU citizens with well-known business management profiles, Baltic Institute of Corporate Governance graduates – board, supervisory board, and audit committee members in large public and private international organisations with a business track record of multinational corporate finance and technology products development. We have been in global business management for over 15 years. Accordingly, we went through quite a few macroeconomic cycles and passed the exams in real time. Hence, we know how to manoeuvre large multinational organisations in good and bad times and when to make urgent changes if necessary. At the same time, we know the importance of maintaining a long-term vision, focusing on a sustainable business strategy and having solid relations with all stakeholders and investors.

Team of professionals only

Secondly, by saying "we have a team of professionals", we mean it. For instance, Head of Operations Inga Zubanovė and Head of Marketing and Communications Karolina Staugaitė worked at one of the largest P2P platforms in the EU. Alexey Kalevich, The Chief Technology Officer, worked at an international group of financial companies.

Regarding our first loan originator, "Ekspres Pozyczka ", – all the team members have great expertise in top finance companies. For example, before "Ekspres Pozyczka", CEO Wojtek Homan was an executive at "Provident Finance". 

We love what we do.

Technology and risk management

What's more important for not only business owners but all investors, as well, is risk management. Risk mitigation and management are our everyday priority tasks at the strategic levels of our daily operations. We are the second-to-none P2P organisation which shall shortly introduce COSO methodology-based enterprise management process. In addition, our first loan originator, "Ekspres Pozyczka", is among the few in the market who have recently implemented a revolutionary AI-based, multisource Big Data scorecard decision engine. It allows not only to filter the fraud but also correctly manage and plan the default and ensure a fast-forward scale of the quality loan portfolio in Poland. 
hive5 just started, but you have experienced members in your team. Does it mean you want to go in the same direction as other platforms?
1. Professionals are our significant operational advantage and key to top-quality investors' service and support

2. More diversification business product-wise: business loans: buy now pay later, green loans, venture loans

3. We will avoid entry to war-affected, high-risk geographies and list only wholly owned Loan Originators.
Currently, you have 'only' one loan originator onboarded. Can you tell me a little bit more about "Ekspres Pozyczka"?
Ekspres Pozyczka is an acquired company by Hive finance. We bought a company that no longer had business prospects, rebuilt it and hired a professional team. Also, set up a new crediting system with a fully automated AI-based, multisource Big Data scorecard decision engine.

On top of that, our Loan originator will shortly introduce consumer credit insurance products, adding extra security to their obligations in front of the investors.

Our skin in the game makes us solid and different from the other p2p companies.
The loan originator is located in Poland. Why did you choose Poland as your first market?
Poland is one of the biggest consumer markets in Europe and has a stable and growing economy. On top of that, "Ekspres Pozyczka" has attracted a very ambitious and strong team with more than 20 years of proven track record in lending. We believe it unlocks many opportunities to achieve critical business goals.
As hive5 is from Lithuania, why didn't you choose Lithuania or Latvia/Estonia as the first market?
That's quite simple. Our target are EU countries with at least 10 million inhabitants, Lithuania, for example, does not fit in.
Expansion is for sure one of your goals. Can you name other markets you want to enter?
Hive5 will phase its expansion into three continents – Europe, Africa, and Asia with a target market population of at least 10 million inhabitants. I do not want to discuss specific countries at this time.
What type of loans does hive5 offer to invest in?
Currently, hive5 offers to invest in consumer and business loans with up to 15% ROI. Soon we will introduce other business lending products, such as Green (or sustainable) loans, Equipment leasing, Estate loans and BNPL (Buy now, pay later).
Buyback is familiar marketing wording; what else do you offer investors a better risk-reward ratio?
Buyback guarantee and "skin in the game"

Firstly, our Loan originator is obliged to Buyback the loan no later than 60 days after the loan payment due date, even if the loan is late or even if the end-borrower did not repay the loan to the lender. Both loan principal and accrued interest shall be repaid in full.

Secondly, all our Hive finance group entities have a corporate policy to allocate at least 10% of equity into the provision funds, which shall be used as a buffer to secure our investors' funds in case our Loan originator faces some financial difficulties.
Thank you for the interview, Ricardas. Of course, the guest has the last word. What do you want to tell my audience?
We have prepared a limited-time offer. Until  October 17, 2022, the interest rates are increased by +1%.

In addition to the above, our team will shortly introduce hive5 investors with a loyalty program, enabling our loyal ones to earn extra profits. Stay tuned and follow us via social channels.
---
Summary
After a long time again a new platform. In fact, I find hive5 interesting because they claim to have brought on board some former and experienced people from another platform. Actually, this is a positive point, but during my research I also found out that these former positions were not quite as high-profile as the impression might have been given. In addition, resumes were probably adjusted accordingly in advance of the platform launch. Platforms that have completed corporate structuring with loan originators as wholly owned subsidiaries have shown themselves to be more resistant to external influences. In terms of business loans, we as investors are first of all financing hive5 or its expansion ourselves. We have to be aware of that, and of course we can or should take a critical view of it and continue to monitor it in the future. Ultimately, in the case of business loans, we mainly have borrowers from Ruptela's circle of influence (the co-founder's company).
The functionality of the platform itself should, of course, be expanded with further market entries and onboarding of new (internal) loan initiators. Currently, for example, a reasonable overview of the transcations is missing. Likewise, more languages besides English are certainly a good idea. The interest rates for loans are at a similar level to other platforms.
---
Registration
If you register with my link on hive5*, you can get +1% extra interest rates until October 17, 2022. I receive 10 EUR plus 2% cashback on the investment for 90 days.
---
Social Media
On my own behalf, I would like to mention that I also present new projects on Twitter (kaph1016) and Instagram (investdiversified) in which I invest myself. Also, on Facebook I have a page. There are also a few insights into how I invest in other areas. So just follow me :). *Some links in my posts are affiliate or referral links. That means I get a little bonus. For each of those who use these links, however, there are no costs or other disadvantages. On the contrary, there is usually a start bonus or cashback. So if you use these links, you support my blog and for that I say thank you in advance!