Hello dear readers! In today's blog post, we take a look back at the October 2021 dividends and their contribution to my monthly cash flow. Enjoy the read!

---
Dividends in October 2021
Because of the crash last year I had the chance to build a beautiful stock portfolio which distribute nice dividends onto my account. With this blog series I want to share with you how many dividends I receive, and also which companies increased/decreased/cut their dividends and how I handle that.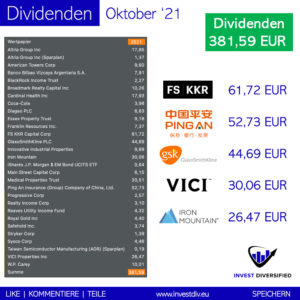 September was with 782,80 EUR absolutely awesome! Of course, October could not quite follow up on this. Nevertheless, there were dividends in the amount of 381,59 EUR. For the first time, I received dividends in HKD from Ping An Insurance. By the way, the figures are neither gross nor net, but somewhat mixed. In the case of US dividends, for example, 15% withholding tax has already been deducted. Dividends from British companies come without tax deduction.
There are many other and smaller dividends, which you can see in the screenshot above.
---
Dividend increases
Visa increases its dividend from 0,320 USD to 0,375 USD per share (+17,2%)
Newtek Business Services increases its dividend from 0,90 USD to 1,051 USD per share (+16,8%)
Abbvie increases its dividend from 1,30 USD to 1,41 USD per share (+8,5%)
Exxon Mobil increases its dividend from 0,87 USD to 0,88 USD per share (+1,1%)
---
My broker(s)

I have several brokers for my stocks, but the majority are German ones, so European readers of my blog cannot register there. As you may know I'm very transparent about the income I receive if you use one of my * affiliate or referral links. Most of the time there is a bonus for you, but never ever costs! Degiro is my second largest broker. A while ago they did a fusion with the German broker flatex and it's now the biggest broker in Europe. You can trade already from 0,50 EUR directly on the NYSE or other US stock exchanges. Also, I trade European options there.
If you use my link* and register an account on Degiro you get a refund of 20€ transaction credit. You only need to spend 20€ transaction credit within 3 months. If you do so, and only then, I have also the possibility to get a refund.
---
About new projects on Twitter, Instagram and Facebook

On my own behalf, I would like to mention that I also present new projects on Twitter (kaph1016) and Instagram (investdiversified) in which I invest myself. Also, on Facebook I have a page. There are also a few insights into how I invest in other areas. So just follow me :). *Some links in my posts are affiliate or referral links. That means I get a little bonus. For each of those who use these links, however, there are no costs or other disadvantages. On the contrary, there is usually a start bonus or cashback. So if you use these links, you support my blog and for that I say thank you in advance!