Hello again! I'm back with a short review and interview with Bulkestate and their CEO Igors Puntuss. The focus of the interview this time is the group-buying feature which is overseen most of the time. Happy reading!
In May 2019 I wanted to diversify my platforms in the real estate sector. I was already registered on EstateGuru as I stumbled over Bulkestate.
---
'Due Diligence'
Bulkestate was found in 2016. As it's an Estonian company, registered in Tallinn, you can find a lot of information on teatmik.ee.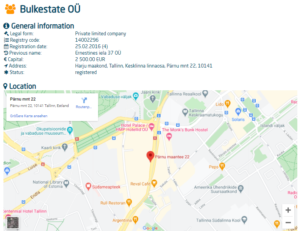 ---
Platform (Review)
Properties
Almost all projects you can find on Bulkestate pay at project completion, which is mostly after 12 months. Only a few projects have monthly payments.
The FLTV of the projects is max. 70% and the size of the loan varies. There are some projects with 'only' 30.000€ volume, other have 1,3 million €.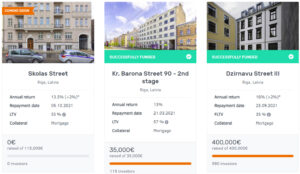 The interest rate is with 12 to 17% very attractive.
Group-Buying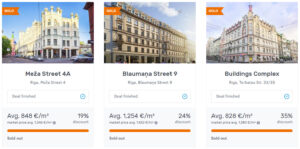 One feature I'm very interested in, but never had the money to invest in, is the group-buying. Here investors have the chance to make a reservation for and buy discounted flats in Riga. You can read more about group-buying in the interview.
COVID-19 impact?
How big was the influence of the corona pandemic on the platform? No big one I have to admit. At the moment there are two delayed projects, one probably will be refinanced.
What's good or changed?
The deal flow is somehow conservative. More projects are published in the last months, although there are a lot of stage loans.
What's missing?
Almost all projects are from Latvia and Riga. Country diversification is important in my eyes. You can read some thoughts about it in the interview. A secondary market would be a good feature, too.
My portfolio and performance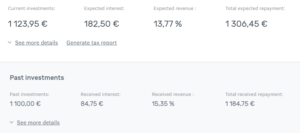 Here is an overview over my current portfolio. Bulkestate shows me 13,77%, the IRR calculated by the tool Portfolio Performance shows 13,56% p.a. That's a really nice value. In the past I invested here and there more than 50 €, which is the minimum investment, but I try to diversify more and now only invest 50 €. Also, I try to invest only in the first project of stage loans. I think Bulkestate closes the gap in my overall portfolio as the majority of loans are from Latvia, whereas e.g. EstateGuru offers mostly loans from Estonia and EvoEstate often publishes Spanish projects.
---
Bulkestate – Interview with Igors Puntuss
Igors Puntuss is CEO and Co-founder of Bulkestate, a real estate crowdfunding and group-buying platform. With this interview, Igors answers all the questions you may have about Bulkestate – what, how, where, and why. We open up discussions to get to know each other
better and find out more about how Bulkestate works and what future plans they have.
To get started, can you please give us a little intro about yourself and Bulkestate?
Well, I am one of the co-founders of Bulkestate platform. Based in the Baltic States, we started Bulkestate in 2016 together with Karlīna Skalberga – another experienced industry's professional who currently isn't actively involved in business operations.

Initially, we planned to offer a group-buying service and later on we decided to start with real estate crowdfunding. The new service perfectly matched our business profile and was a sound opportunity for Bulkestate to put its expertise and skills to immediate use.

Right now, we provide real estate crowdfunding and group-buying services across the Baltics – our project portfolio spans across large-scale real estate projects. Around 6 400 investors from all over Europe have built their confidence in residential properties, land plots, and commercial projects managed by Bulkestate. For these projects, our team has provided full-service real-estate management from the lookout for investors to selling properties.
How would you describe group-buying services available on Bulkestate's platform?
All you need to know about group-buying is very simple. Large property owners reach out to Bulkestate for assistance to sell their properties in a matter of a few months. We give owners
an opportunity to sell a building or multiple apartment in one go without actively participating in the sales process. Usually, selling such types of properties takes up to two years, but in
cooperation with Bulkestate, it is possible to close a deal in a short amount of time.

Another benefit is that property owners can access a larger pool of investors from all around Europe. Meaning that investors from any place in the world can make a reservation and purchase properties directly, finding a seller on Bulkestate's platform very quickly. After that, we are here to help them rent out the purchased property or apartment as we have established long-term partnerships with local real estate agencies.
Getting into group-buying makes sense. But from where does the synergy between crowdfunding and group-buying come from?
The synergy is quite clear. Crowdfunding is an alternative way to fund refurbishment and renovations works when getting into the group-buying deal. This allows the property owners
together with Bulkestate to increase the value and make the estate more attractive and for potential buyers. As a result, the property usually becomes more buoyant than you might
expect.

The quick sales process goes hand-in-hand with the short-termed loan. Meaning that this service allows owners to sell properties fast and repay money to investors. It is a win-win situation for both – investors and property owners. At the end of the day, investors have earned their share or even purchased an apartment (located in the same building they invested in), while owners have quickly sold their properties. This was the case of our group-buying project on Blaumaņa Street 9. We helped our client to raise funds and find potential buyers and successfully make reservations for all the apartments housed in the building.
Has it been easier to source group-buying projects considering the current market conditions?
It is really not the case, as the local real estate market hasn't had a significant price decline. We have received inquiries about our group-buying services but there are no indications that property owners are trying to get rid of their properties by offering huge discounts during this
period.

We are working with a few leads and the discussed prices are almost in the same region as they would be in the "pre-COVID-19" period.
If I think of investing and becoming a client of Bulkestate – what should I know about?
Most of us think that there are very high barriers to get into real estate investing. It isn't true! Everyone can invest and make returns. Our platform matches all pocket sizes, and we offer to
invest in real estate, starting from 50 EUR.

For group-buying investors, there are many more benefits. We offer them to purchase properties under the market value and make reservations online directly on our website.
How do you ensure that the collateral is valued appropriately, and what other safety measures are you taking?
Our investment projects pass through substantial due diligence and risk assessment. Bulkestate works with the two major real estate valuation companies in the region. Most local banks work with these companies when they issue loans.

Also, we should mention that all these valuations go through the in-house valuation phase. Our experienced and driven real estate analyst assesses the market, its current conditions, and
prices to re-evaluate the property and revise the value as needed.

Everything is transparent, and loan agreements are signed in the notaries' office. It permits us to ensure a quicker recovery process and foreclose the property without getting to the court in case the borrower is reluctant to repay the loan.

Aside from operational activities and functions, we recently presented new technological developments that we had been working on. Protecting our client data and finances have been
and will always be one of our top priorities. That's one of the reasons why we decided to add an extra layer of security and make our investment projects available to verified investors. To put it simply, we have introduced KYC and two-factor authentication steps to safeguard our investors and projects in the Baltics and beyond.
What does the future hold for Bulkestate?
I believe that Bulkestate is undoubtedly on its way to becoming one of the leading real estate crowdfunding platforms in Europe and the most important thing that we are excited about is the upcoming European crowdfunding regulation.

We hope that this will bring more transparency to the industry and more security for the investors. Although there will be a transition period to introduce the necessary operational changes, our team is planning ahead, and we are now working together with our lawyers to be fully prepared once the time comes.

Also, we are now working on closing two intriguing group-buying projects in Latvia. Stay tuned, because we will disclose more information about these deals as soon as we agree to the
property terms and pricing!

But the expansion of our regional footprint is the backbone of our long-term growth strategy. We will continue to work closely with our clients, investors and partners across Europe where Bulkestate plans to open new markets with crowdfunding and group-buying services.

Take for instance Finland, a potential market, where we can be and make a change. In February, we financed a project there and have been working with local partners to source new, exciting projects. Currently, due to the impact of CV-19, our expansion has slowed down a bit. However, we feel that things will eventually get better, and after some time our investors will be able to commit to many more projects in Finland that they can relate to.
(No) Bonus
If you use my link* I'll receive 1% cashback for 180 days and one-time 5€. Unfortunately there's no bonus for you, but you would support my blog.
---
Revolut – My account for p2p and crowdlending
Since I don't want to transfer everything from my regular bank account to the platforms, I was looking for a simpler solution. A few months ago I stumbled upon Revolut*. Since then, I use the app for all financial transactions in the area of p2p/crowdlending and also in business context as freelancer with Revolut for Business*.
After being skeptical at first I'm now a big fan of the app. The execution of transactions to the different platforms and also withdrawals is very fast. In addition you can with the free Revolut VISA card with max. 200€ cash limit per month at an ATM. And that without additional costs!
In addition, Revolut is my faithful travel companion. Since I also work abroad from time to time I also looked for a way to simply exchange currencies. This is easily possible with the Revolut app. Also, without fees (up to 6.000€ per month)!
Using my links for Revolut I get nothing at the moment. Previously I got reward of £2.00-3.00 for a standard card order. For Revolut for Business I'd get up to 66,35€. Reason is that Revolut pausing their affiliate programs.
---
About new projects on Twitter, Instagram and Facebook
On my own behalf, I would like to mention that I also present new projects on Twitter (kaph1016) and Instagram (investdiversified) in which I invest myself. Also on Facebook I have a page. There are also a few insights into how I invest in other areas. So just follow me :).
*Some links in my posts are affiliate or referral links. That means I get a little bonus. For each of those who use these links, however, there are no costs or other disadvantages. On the contrary, there is usually a start bonus or cashback. So if you use these links, you support my blog and for that I say thank you in advance!